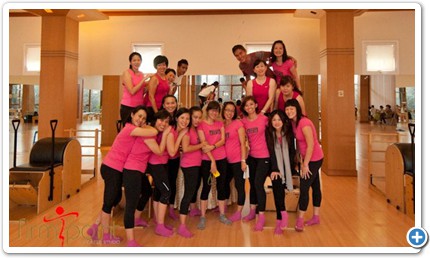 Pilates Studio
5.0
(15 reviews)
Firmpoint Pilates Firmpoint Pilates is one of the largest Pilates studio in Asia. It started in September 2006 with a small class of 15 – 20 participants, in a spacious and luxurio...
Firmpoint Pilates Studio
Firmpoint Pilates
Firmpoint Pilates is one of the largest Pilates studio in Asia. It started in September 2006 with a small class of 15 – 20 participants, in a spacious and luxurious house belonging to Dr. Fifi Wiriadinata, with Sansan as pioneer Pilates teacher. In January 29th 2007 Firmpoint Pilates Studio Bandung started to open their membership to the public. Since then, attendance and membership of Firmpoint Pilates has exploded.
We are also proud to announce that we are the only official Pilates host in Indonesia for the internationally renowned Polestar Pilates education, beginning 2011.Firmpoint Pilates believes that understanding Pilates is a evolutionary journey, which is why the teachers of Firmpoint Pilates always do 'Continuing Education' by attending prestigious seminars, courses or other training workshops held by the Master Teachers of Pilates to provide world class quality Pilates classes designed for rehabilitation as well as fitness.
The Pilates Method Alliance (PMA)
Founded in 2001, the Pilates Method Alliance is the professional association and certifying agency for Pilates teachers. For the past decade, Pilates teachers from around the world have worked together to create a unified community, to share knowledge and information, and most importantly, to establish the practice of teaching Pilates as a profession. To that end, in 2005 the PMA launched the only third-party professional certification exam in the Pilates industry.
This PMA Pilates Certification exam has been developed to set a benchmark for professional credentials for Pilates teachers worldwide. The PMA certification is having an impact on all Pilates teacher training programs in America, which now face the challenge of preparing graduates for the PMA exam process. We recommend that you visit the PMA website http://www.pmapilatescertified.com/ for more information about this exam.There are only 2 PMA CPT (PMA Certified Pilates Teacher) qualified in Indonesia, and both of them only teach at Firmpoint Pilates studio. They are: Sansan The ( Head Teacher of Firmpoint Pilates) and Pinpin ( Senior Teacher of Firmpoint Pilates).
Why Pilates?
Some people are drawn to Pilates because of its proven body shaping effects the gentle stretching and lengthening movements draw the muscles into longer, leaner shapes. Others are drawn to it because they want a challenging whole-body workout that strengthens and increases stamina, but do not wish to lift weights. Still, others are referred to Pilates by their chiropractor, osteopath, physical therapist, or medical practitioner. Many people who have sustained a back or neck injury are drawn to Pilates, discovering it to be an excellent method of strengthening the body and preventing it from sustaining further injury. Pilates is a subtle technique that works at supporting and protecting the body as you exercise. However, if you have any specific complaint, suffer chronic pain or discomfort, or any sustained any injuries, particularly to the spine or neck, then you should seek medical advice before embarking on any exercise program.