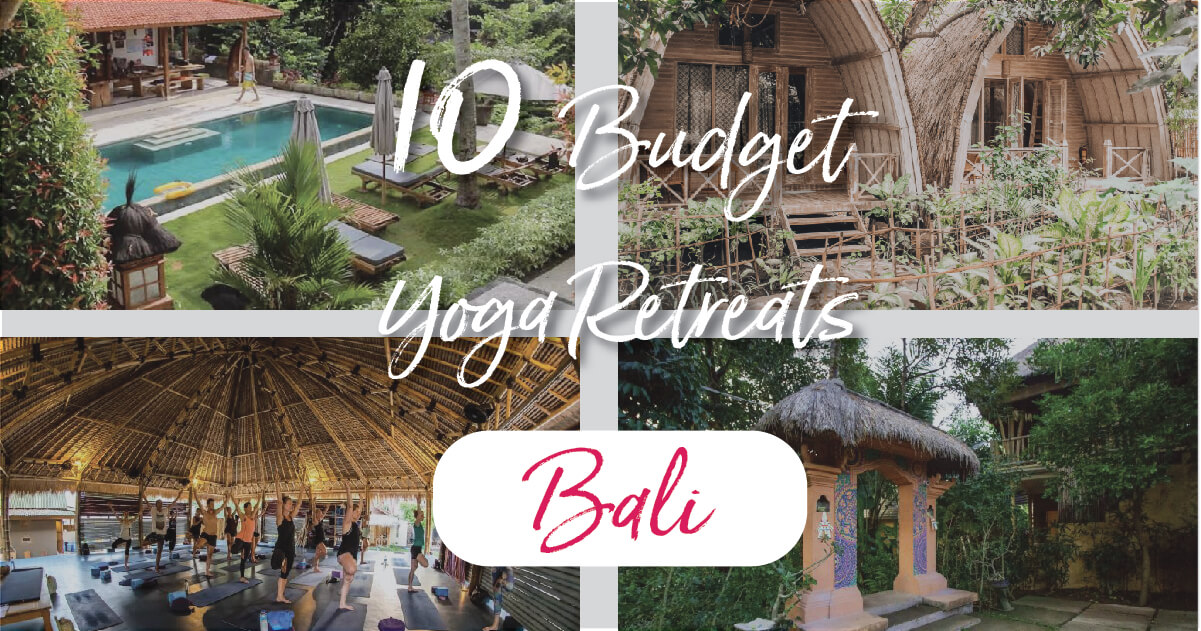 Much had been written and spoken about the coconut trees swings, long white sand beaches, crystalline blue waters, lush green rainforests, sleepy volcano treks, vibrant green rice terraces, fiery orange sunsets, lively monkeys, and flitting colorful birds of Bali. Bali is predominantly Hindu and the locals live and breathe this system so much that the aura of Bali has turned magical attracting wellness seekers from all parts of the globe for Yoga retreats and Yoga teacher training and much more.
If you are looking for a holiday from which you come back refreshed, rejuvenated rather than eternally hungover then here is a list of 10 of the most popular budget yoga retreats in Bali where one can not only learn and practice yoga but surf, enjoy 100% vegan food, go Island hopping, scuba diving and much more in the beautiful aura of Bali. The list below has been sorted by popularity taking into account the quality & quantity of reviews and web traffic.
 1. Serenity Eco Guesthouse Budget Yoga Retreat
Location: Badung, Bali
Set in the harmonious surroundings of Canggu and only a five-minute stroll away from the beach, Serenity Eco Guesthouse  & Yoga is a family-owned business. This eco guesthouse has completely eco-friendly surroundings made from only reusable materials and offers 100% vegan food. Serenity Eco Guesthouse has officially been listed on Bookgreener as a Green Hotel!
The 4 Days Yoga Holiday to Live the Best Version of Yourself Retreat offered by the centre includes following
3 yoga classes in total

eco-friendly environment

Free use of swimming pool at Serenity 1 (500 meters away)

Daily breakfast at Serenity 1 starts from 7:30 until 10:00 a.m.

Free shuttle for the branch

3 nights accommodation
Serenity Eco-Guesthouse and Yoga are more than happy to provide activities that suit any of your needs such as reading books, swimming in the pool or in the sea, go surfing, renting a bike to wander around, etc. The eco-guesthouse also offers daily yoga classes, yoga teacher training and Ayurveda treatments throughout the year.
Link To: Serenity Eco Guesthouse Budget Yoga Retreat
Avg cost budget yoga retreat per day: US$ 17 | 1,271 INR
 2. H2O Yoga and Meditation Budget Yoga Retreat
Location: Gili Air, Lombok
Located on the idyllic Island of Gili Air, near Lombok and Bali, H2O Yoga and Meditation Center is the ultimate island escape. The island itself is a true peaceful sanctuary with no motorized vehicles main means of transportation are bicycles and horses & carts. The centre offers 100% vegetarian food only.
The 2 Days Nomad Yoga Holiday Retreat offered by H2O Yoga includes following
Daily yoga

Meditation sessions

Plenty of free time to relax and explore

Meet like-minded people and make new friends

Daily healthy breakfasts

1 night accommodation
The daily program during the retreat is entirely flexible, and you can attend classes at your leisure. H20 Yoga and Meditation also offer optional add-ons workshops for beginners on Tuesdays and Fridays and a Yin workshop on Sundays.
Link To: H2O Yoga and Meditation Budget Yoga Retreat
Avg cost budget yoga retreat per day: US$ 42 | 3,140 INR
 3. Flowers and Fire Yoga Garden Budget Yoga Retreat
Location:  Gili Air, Lombok