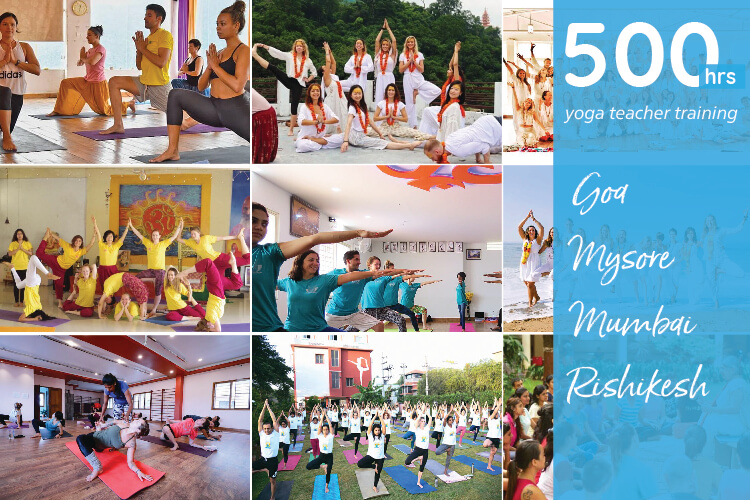 An increase in the number of queries received by the balancegurus team related to 500 hour yoga teacher training in India in 2018-2019 is the main reason behind the team crafting this article. We have created a list of the 15 most popular 500hrs yoga teacher training facilitating centres in india. We have tried our level best to make the process data driven and objective this is not a paid article and we thank all the students, teachers and communities/groups that have helped us craft this article. 
Certified 500 hour YTT is a highly professional level of yoga training certification, it can take anywhere between 2 to 12 months to complete this course. It requires immense dedication and grit from not only the students but also from the teachers and yogis imparting this training. To know more about the 500 hr YTT certification and its curriculum by Yoga Alliance (click the link https://www.yogaalliance.org/Credentialing/For_Teachers/RYT_500 ).
The list below is published in reverse, the process/methodology used, the people and groups that helped us create this list and rank it are all mentioned at the end. This list only consist of yoga centres that are certified by Yoga Alliance as facilitators of 500hrs YTT.
15- Yogadarshanam Yoga Teacher Training Centre Mysore
The founder and Director Yogacharya Santhosh Kumar has been teaching yoga for the last 22 years. He also received Rashtra Vibhushan Award for outstanding individual achievement and distinguished service to the nation on the occasion of National Seminar on outstanding contribution for National Economic And Social Development on April 2015 from Foundation for accelerated community empowerment, NGO, New Delhi. Yogadarshanam has taught more than 900+ yoga alliance certified Yoga teachers in more than 92+ countries and their courses and workshops are run in more than 6 countries. Yogadarshanam Yoga Teachers Training mainly trains in Ashtanga Yoga, Mysore style and Hatha Yoga B.K.S.Iyengar Style along with Multi concepts. 
The team of teachers comprises of Sujatha (Yoga Teacher), Roshan Arehole (Yoga Teacher), Yogeesh (Yoga Teacher) and Shri Hari (Assistant Yoga Teacher)
Location: Gokulam, Mysore, Karnataka
Cost Of Training: 1392 USD 
14- Yoga Vidya Mandiram Yoga Teacher Training Centre Rishikesh
The founder of this yoga centre Swami Omkarananda grew up around the great lady saint of India, Ma Anandamayi. He studied and lived with six enlightened Masters Swami Dayananda Saraswati, Swami Veda Bharati, Swami Chidananda Saraswati, Dalai Lama, Lung Chu, and the Master of Masters Kalyan Babaji of Himalayas. The 500 hour yoga training course offered by the centre includes Mantra recitation,daily joints and glands practices, yoga postures, meditative steps of doing asanas, six cleansing exercises and yoga teaching methodology. This is an educational Institute that organizes free medical camps and yoga camps around india.
The team of teachers comprises of Dr. Harsha Agrawal (Ayurveda Teacher), Ravinder Singh Padiyar (Ashtanga Vinyasa & Alignment), Dr. Sumit Sharma (Yoga Anatomy & Physiology), Priya Pooja (Yoga Anatomy and Physiology), Yogacharya Lalit (Yoga TTC Manager), Prashant Jakhmola (Traditional Hatha & Ashtanga Vinyasa), Yogacharya Sandeep Pandey (Yogasana, Pranayama, Shat Kriyas) and Vivek Kalura (Yogasana, Pranayama, Shat Kriyas)
Location: Bhandari Swiss Cottage Tapovan, Rishikesh, Uttarakhand
Establishment Year: 2014
Cost Of Training: 2800 USD 
Sh. Radhika Sharan is the Founder & President, E-RYT 200, E-RYT 300 & E-RYT 500 of Om Yoga International. The main uniqueness of this internationally recognised Yoga centre is that they teach ancient yogic philosophies purely based on traditional style as mentioned in Vedas. Also all the teachers of this yoga centre are certified by the Yoga Alliance. Their 500 hrs YTT comprises of detailed study of Ashtanga Yoga, Hatha Yoga and Indian Traditional Yoga. 
The team of teachers comprises of Ruchika Sharan (Co-Founder, E-RYT 200, E-RYT 300 & E-RYT 500), Swami Divyanand Saraswati (E-RTY500, World Yoga Alliance), Ram Lakhan Tiwari (RYT 200 & 500 Yoga Alliance, USA), Prakash Kumar Gochhi (RYT 200, Yoga Alliance, USA) and Swati Sharma (RYT500, Yoga Alliance, U.S.A)
Location: Laxman Jhula, Rishikesh, Uttarakhand
Establishment Year: 2010
Cost Of Training: 1800 USD 
12- Himalayan Yoga Association: 
A simple man, fewer needs, and an accomplished yogi is what describe Himanshu Ji the founder of Himalyan Yoga Association. Apart from yoga he also teaches yoga philosophy 'Teachings of Maharishi Patanjali's yoga sutras & teachings of Bhagavad Gita. In 500 hour YTT the centre offers Vinyasa Yoga, Hatha Yoga, Sun Salutation and Ashtanga yoga primary series sequence made by K. Pattabhi Jois. 
The team of teachers comprises of Yogi Vivek ji (Ashtanga & Pranayama), Yogini Durgesh Ji (Meditation/Pranayama/Philosophy Teacher), Swami Ji (Meditation/Yoga Philosophy Teacher), Yogi Ankit Ji (Ashtanga / Hatha/ Alignment Teacher), Yogi Vipin Ji (Hatha/Ashtanga/Vinyasa flow Instructor), Yogi Amit Ji (̌̌Ashtanga/ Vinyasa flow/ Hatha/ Acro yoga Teacher), Yogi Kirti Anand Ji (Hatha/Ashtanga/Vinyasa flow Instructor)
Location: Tapovan, Rishikesh, Uttarakhand
Establishment Year: 2011
Cost Of Training: 2850 USD 
Shiva Shakti Yoga is a traditional yoga school set up with the intention to spread the teachings of Hatha Yoga in its purest form. Over 2000 yoga graduates of this school work as professional yoga teachers across the Globe in over 110 countries. Amit Dhumal is the Founder of Shiva Shakti Yoga. In the 500 Hour Yoga Teacher Training Course the centre offers Hatha Yoga, Ashtanga & Vinyasa and Asana Alignment.
The team of teachers comprises of Dr. Neha Baliyan (Yoga Teacher), Vishwajeet Singh (Yoga Teacher), Yogi Manish (Yoga Teacher) and Chida (Yoga Teacher)
Location: Canacona, Goa
Establishment Year: 2012
Cost Of Training: 4191 USD
Swami Deva Arhato (Shashi) started "Mystic School" which was renamed as "Nirvana Yoga Shala" this centre offers Ashtanga Yoga TTC, Hatha Yoga TTC, Tantra Yoga TTC. As mentioned in the popular newspaper "The Hindu", Nirvana Yoga Shala is one of the well-known national and international yoga centre of Mysore. The 500 Hrs YTT course presents a strong emphasis on the Classical Hatha Yoga series, practicing 4 level of Asana, Traditional Ashtanga Vinyasa Primary series and Intermediate Series. 
The team of teachers comprises of Surya Vatsa (ERYT 500 Ashtanga Yoga Teacher), Shilpashree. K (Yoga Teacher), Karthik (Yoga Teacher), Jagadamba Stella (Yoga Teacher), Swami Anand Sampan (Therapist), Christopher Drozd (Yoga Teacher), Beatrix Montanile (Yoga Teacher) and Dr. Shashirekha.C.K (Consulting Ayurvedic Physician)
Location: Gokulam, Mysore, Karnataka
Establishment Year: 2006
Cost Of Training: 2950 USD
9- IndeaYoga:
Yogacharya Bharath Shetty founder of IndeaYoga having more than 2 decades of yoga teaching experience, he has trained more than 1000 teachers from over 80+ countries. He was the first yoga teacher in India to be certified as E-RYT 500, the highest level of instructor certification by Yoga Alliance. He was bestowed the title 'Yogacharya' by Sivananda Yoga Vedanta Centre, Trivandrum and recognised as 'Yoga Shiromani' by Vivekandananda Kendra, Bangalore. Recognised for its focus on body-breath-mind coordination, without pressure or force, IndeaYoga is among the oldest Yoga Alliance (USA) accredited schools in India. 
The team of teachers comprises of Yogashree (Philosophy and Yoga Teacher), Meet Sidhu (Yoga Teacher), Ankur Bhati (Yoga Teacher), Dr. Anup Krishna (Ayurveda Teacher) and Nikhil Uthappa (Yoga Teacher)
Location: Bogadi, Mysore, Karnataka
Cost Of Training: 1396 USD
Om Shanti Om Yoga Ashram is a traditional and one of the oldest Yoga Ashram in Rishikesh. The center was established by world-famous - The Great Himalayan Yogi Swami Yogananda Maharaj Guruji who achieved Maha Samadhi on 3rd Jan 2015. He was alive for 105 years and had 85 years of yoga experience in India and all over the world about 64 countries abroad. Swami Yogananda is world famous for his Sukshamvyayam Yoga which is about inner body cleansing deep into our nerves systems. This Yoga School is one of the most acclaimed and reputed institutions providing yoga teacher training in India, specializing in traditional systems of Hatha and Ashtanga Vinyasa yoga.
The team of teachers comprises of Yogi Dinesh Chander Ji (Director & Leading Hatha Yoga Teacher), Guru Buddhi Prakash Ji (Meditation & Philosophy Teacher), Dr. Usha Vaishnava Ji (Ayurveda Doctor), Yogi Jitendra Ji (Pranayama & Meditation), Kannan Ji (Anatomy & Physiology Teacher), Mrityunjay Patidar Ji (Philosophy, Yoga Therapy & Meditation Teacher) and Swami Amarna Ji (Osho Meditation Facilitator)
Location: Ram Jhula, Rishikesh, Uttrakhand
Establishment Year: 1999
Cost Of Training: 2800 USD
7- Association For Yoga and Meditation:
This Centre is "The Global Excellence Award 2019" winner for the Best Yoga Training Institute of the Year, awarded by Indian actress Madhuri Dixit. The founder of the center Yogi Chetan Mahesh in 2000 became part of the National Institute for Yoga where he completed the one-year Diploma in Yoga along with Yoga Therapy and was invited to go to Germany by the India Government to teach yoga there. In this yoga centre he has trained more than 10,000 yoga teachers up to now. Centre emphasize all forms of Yoga in their curricula like Asanas, pranayama, Yoga philosophy, therapy, and Ashtanga vinyasa and many more.
The team of teachers comprises of Jayakumaran Annasamy (Hatha Yoga Teacher), Dr. Shreejit Ghadigaonkar (Anatomy Teacher), Yogacharya Sandeep Pandey (Senior pranayama and Meditation Teacher), Dr. Gaurav Agrawal (philosophy Teacher), Praful Upadhyay (Anatomy Teacher 300 hours), Yogacharya Mahesh Bhatt (Yoga Therapy Teacher), Yogacharya Arpit Agrawal (Methodology Teacher) Vikal Sajwan (Meditation Teacher)
Location: Tehri Garhwal, Rishikesh, Uttarakhand
Establishment Year: 2005
Cost Of Training: 3300 USD
Founded by Pundit Radheshyam Mishra YogaLife Global, (formerly known as Ujjain Yoga Life Society or UYLS) is an organisation committed to promoting Indian Classical Yoga around the world through training & teachings. The internationally recognized Yoga Guru, Pundit Ji began teaching yoga in early 90's an exemplary pass-out of the world's oldest yoga organization The Yoga Institute, Santacruz, Mumbai. His unique method is practiced by thousands around the world, with more than 2,500 trained teachers in 51 countries across the globe. Ujjain Yoga Life Society has 240+ branch/affiliated centers around the world.
The team of teachers comprises of Ibrahim Shariff (Yoga Trainer), Sangita Tiwari (Yoga Trainer), Nirmala Iyer (Yoga Teacher), Johana Koenig (Yoga Teacher), Rahul Ajmera (Yoga Teacher)
Location: Ujjain
Establishment Year: 1996
Cost Of Training: 850 USD