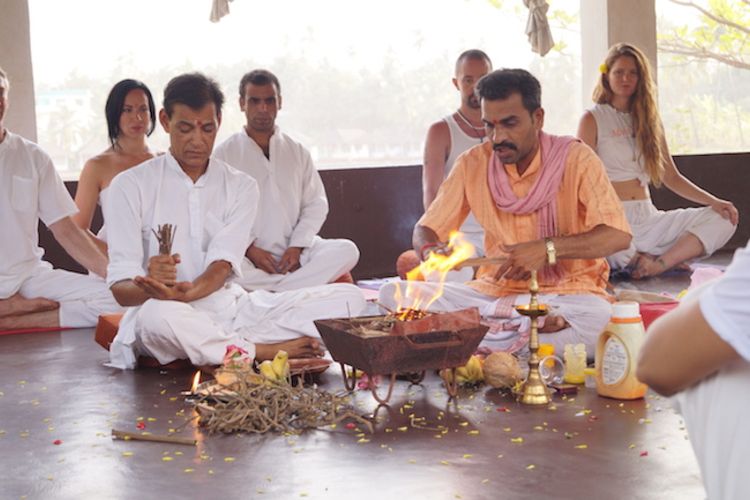 I write this story from Lucknow "The city of nawabs" while sitting on my parent's balcony in the old part of the city right next to the river Gomti enjoying fresh home-cooked Aloo Ka Paratha with tomato chutney and cheese spread some of the butter has made it to my MacBook's key's too. If you have not been to Lucknow then let me tell you it is one of the most beautiful cities in the north of India praises for its architecture, history, craftsmanship and cuisine can be heard all over the internet all one has to do is search.
This founder story is special as it's not only the 1st but also both Akhilesh Bodhi founder of Mahamukti Yoga School Goa and the founder of BalanceGurus.com hail from this magnificent city famous for its romantic orange sunsets.
Akhilesh grew up in a joint family which owned a restaurant in the olden part of the city it was also the place Akhilesh and his brother had to work right after they came back from school and if on any occasion Akhilesh was late a stick was ready to torment his behind.
Akhilesh enrolled in Lucknow university for higher education and it is there where he took active participation in politics he even tried his luck at the local election but failure made him realise this was not for him.
Akhilesh had his true calling when he came across an advertisement of 'Sanskrit and Vedanta course in Himalaya' by Chinmaya Tapovan Ashram in Dharmsala, Himachal Pradesh. Neither his friends nor his acquaintances knew anything about Vedanta and in those days you couldn't just google your way for the recommendation so Akhilesh without informing anyone decided to apply and give an interview for the course.
Akhilesh was always a rebel at heart so once he got selected he packed his bags and set for a 2 years residential Sanskrit and Vedanta course in Dharmsala and that too without telling anyone as he knew it was beyond the norm in his family.
Akhilesh story got us curious so we decided to interview him and here is what he had to say to some of our questions.
Why did you become a Yogi & a Yoga Teacher? What inspired you?
When I  took the path of Yoga and Vedanta studies I had no idea about it what it all about. I joined because something inside of me was telling me I must go for it and once I went I ended up doing a 3 years of course Yoga Vedanta. Those 3 years changed my lifestyle, perception about life and my Goal of Life. It truly was a great learning, I learnt a lot about myself about the creator and his creation and how the mind in general functions. 
After completing my Studies, I have no other option than teaching Yoga and Yogic Lifestyle so I could be more integrated with the Yoga lifestyle.
Why do you teach?
Teaching has never been a compulsion, I do it because it brings me joy and happiness. After completing my studies I have been a yoga teacher and have taught many students around the world. Teaching helps me stay integrated with the yoga lifestyle and lead a Yogic life.
What is Yoga to you?
For me yoga is all, it is my life, it is my breath and it is also my bread and butter.
What has Yoga given you?
Thanks to yoga I am amazed every day of my life, I feel calmer, more in love with existence and love to be with myself. This is the most amazing thing yoga has given me.
What is your favourite Mantra?
That is easy its OM
If you could change one thing in the world today what would it be?
I wish people could breathe cleaner and deeper and be more silent in their presence.
Akhilesh Bodhi is the Founder of Mahamukti Yoga School Goa
Surrounded by coconut trees, a small lake and near mandrem beach is Mahamukti Yoga School Goa, a Yoga Alliance certified Yoga School. The centre has open well-ventilated yoga shala with eco-friendly soft flooring. All the yoga training accommodations huts face the lake and are surrounded by coconut and palm trees. The entire environment is calm, peaceful and ideal for practising yoga.
Click the link To know more about Mahamukti Yoga School Goa