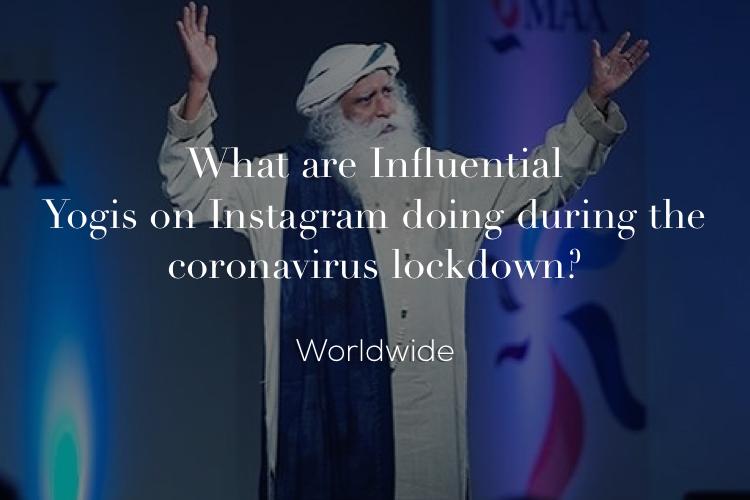 Coronavirus has forced the government to enforce lockdowns, curfews and mandatory social distancing. Like us you might be locked at home too hopefully your loved ones are with you.
Most retreats and training are cancelled and will remain so for the next 6 months. Governments are finding ways to call back all their citizens and stop the issuance of new visas. The whole world is in disarray. So what do we do? We decided to see what the most influential yogi's on instagram are upto sure they can act as an inspiration and give us more ideas. (ref to 15 most influential yogis on instagram blog for the list of Yogi's). This list has been sorted in descending order of instagram followers.
1- Sadhguru: 2.8 m fans
Insta handle: sadhguru
Sadhguru, a spiritual yogi and public figure from India is addressing questions and misconceptions people have about coronavirus and giving spiritual advice on what to do in these troubled times. He also shares life lessons and stories. Sadhguru conducts live guided meditation sessions currently daily. His Insta account is mostly managed by Isha foundation Volunteers and has some of the best spiritual talks in the world.
2- Rachel Brathen: 2.1 m fans
Insta handle: yoga_girl
Rachel the swedish Yoga Instructor has started a yoga girl community challenge: 30 day, 30 classes on 30 themes where she and some other yoga teachers will conduct classes which you can join for free for more info check out https://www.yogagirl.com/#30daysofspace
3- Laura Kasperzak: 1.2 m fans
Insta handle: laurasykora
Laura the Yogini from the states shares short handstand videos with her daughter.
4- Kino Macgregor: 1.1 m fans
Insta handle: kinoyoga
Kino the Yoga Teacher from Miami is offering free and paid online yoga training classes which can be found here https://instagram.com/omstarsofficial?igshid=1ii1aeci103dz. She is also conducting 30 day yoga challenges which her fans can follow.  She shares inspirational stories from her past and yoga postural images on her Instagram.
5- Kerri Verna: 1m fans
Insta handle: beachyogagirl