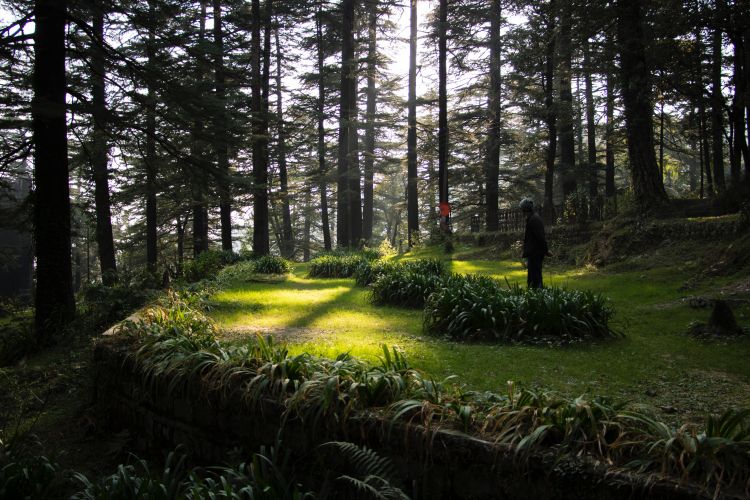 Dharamshala is a picturesque town surrounded by cedar forests that lies on the scenic stretch of the Kangra Valley on the foothills of The Himalayas. Dharamshala also known as the 'Little Lhasa of India' is blessed with a strong Tibetan charisma and omnipresent fluttering prayer flags and monks in bright saffron robes. The surrounding makes for a perfect location for self-reflection and yoga.
It comes as no surprise that Mcleodganj, Dharamshala was chosen by The 14th Dalai Lama as his seat of exile outside Tibet. The Bhagasu, Kangra region of Dharamshala is famous for its tranquillity and mountain views so much that all the Yoga Retreats and Meditation Retreats are located in this region, it is recommended as the ideal spot to relax and self reflect away from the hustle and bustle of the city.
We have put together a list of Top 10 Popular Budget Yoga Retreats in Dharamshala to help you choose the yoga retreat that suits you best. Get to rejuvenate your mind, body and soul. The list is sorted by cost and in the end, there is a link to an interactive list which you can sort by reviews, popularity and price.
Himalaya Shanti Ashram Dharamshala is a mountain yoga retreat set amidst the foothills of the Himalayas and on the bank of a pristine river. Tranquility, lush greenery, well lit yoga halls and panoramic views is what one can find at Himalaya Shanti Ashram Dharamshala.
Himalaya Shanti Ashram was founded by Sharat Arora who has more than 42 year of experience. Himalaya Shanti Ashram offers yoga retreats, detoxification, massage, and energy therapies. Furthermore, this yoga retreat center offers yoga teacher training, pranic healing, chakras, and evolution of consciousness immersion.
9 Days Intensive Yoga Retreat by Himalaya Shanti Ashram Dharamshala includes the following
Introduction to fundamentals of the Sharat Arora Yoga Method

Morning and afternoon asana Classes

2 Meals Daily (Lunch and Dinner)

8 Night Accommodation
Starting from INR 19500 or USD 265 (INR 2438 per day)
Aranya Yoga is a yoga retreat center located in Dharamshala. It offers mesmerizing views of the Himalayas, and an ideal environment for practising yoga and meditation. Aranya Yoga offers 200 hrs and 300 hrs yoga teacher training, sound healing, trekking and excursions, reiki, cooking classes, and agnihotra ceremony.
Yogi Krishna Das Baba is the founder of Aranya Yoga Dharamshala. He hails from the Western Himalayas of North India. He has been practicing yoga since he was 15 years old and Yogi Das Baba commands the 200 hrs yoga teacher training course, numerous workshops on meditation, healing, and ayurvedic cooking, apart from Yoga he is famous amongst his students for his storytelling skills. 
 Aranya Yoga Ashram offers 7 Days Intensive Yoga Retreat in Dharamshala which includes
Daily Hatha and Ashtanga Yoga 

3 Veg Meals and Tea Daily

Meditation Classes

Free Wi-fi

6 Nights Accommodation
Starting from INR 18500 or 252 USD (INR 3084)
Nestled in the laps of the Himalayan Mountains in Mcleodganj, Dharamshala lies the Om Yoga Ashram. The centre has picturesque views and an open rooftop where students can practise yoga and meditation.
Swami Dr. Rashpal with more than a decade of yoga teaching experience is the founder of Om Yoga Ashram in Dharamshala. Om Yoga Ashram offers Yoga Retreats, Certified 200 hrs Yoga Teacher Training, 300 hrs & 500 hrs Yoga Teacher Training, Kundalini Yoga Teacher training, Reiki Training and Hindi Classes.
 In order to enjoy the ashram ambience and budget-oriented yoga retreat Om Yoga Ashram offers
 3 Days / 2 Nights Yoga Retreat in Mcleodganj, Dharamshala and this retreat includes
3 Satvik meals daily (Breakfast, Lunch and Dinner)

Daily Morning and Evening yoga classes, Yoga Philosophy, Anatomy, Seven Chakras and Mantra Classes

Trekking-Triund, Galu Mata, Guna Mata, River, Sunset point Naddi

Introduction to Chakra Course

Introduction to yogic cleansing + spiritual therapies

2 Nights accommodation in the ashram
Starting at 7000 INR or $100 USD (INR 4500 per day)
AryaMarga Yoga Institute is located in the remote mystical town of Bir-Billing, Himachal Pradesh at the foothills of Himalayan Dhauladhar range. This yoga Institute provides picturesque views where students can practise yoga, meditation and have access to a wide range of yoga therapies.
Yogi Roshan Palat is the founder of AryaMarga Yoga Ashram. His immense passion for Yoga made him move towards the Yogic path giving up a career in law and finance. He spent three years with his guru, derived the best yoga practices and learned Mahayana Buddhism. Yogi Roshan conducts the yoga teacher training courses.
AryaMarga Yoga Institute offers daily yoga vacation, 45 days yoga retreat, a 1-month yoga retreat and a 5 month long yoga retreat program.
3 Days Weekend Yoga Vacation by Aryamarga Yoga Institute includes
Daily Hatha-Vinyasa Asana class

Daily Meditation class

3 Yogic meals daily

2 Nights Accommodation
Starting from INR 9600 or USD 130 (INR 4800)
Located in the foothills of the Himalayas, Shree Hari Yoga center offers one of the best 100hrs yoga teacher training retreat in Dharamshala. Shree Hari Yoga also offers retreats and yoga teacher training classes in Gokarna (Oct to Mar), Dharamshala (Apr to Sep) and Goa (Oct to Mar).
In Dharamshala the centre is located in Upper Bhagasu, Kangra. The yoga halls present here overlook numerous Hindu temples and Buddhist stupas. A short walk up the mountain one can find numerous meditation spots that offer mesmerising views.
Shree Hari Yoga Center was founded by Shree Hariji Pawali, he started his yogic journey at a young age of 16. He aims to share all the knowledge that he has gained over the course of years with his students. The center offers 100hrs, 200hrs and 300 hours Multi Style Yoga Teacher Training programs and also conducts retreats in Gokarna, Dharamshala and Goa.
100 hrs Multi Style Yoga Teacher Training Course in Dharamshala includes
   

11 days of yoga classes and practice

   

2 yoga classes per day

   

Daily meditation and pranayama classes

   

Theory and art of teaching sessions

   

Daily breakfast, lunch, and dinner

   

10 nights accommodation
Starting from 51,400 INR or 700 USD (INR 5140 per day)
6. Shivam NeelKanth Yoga Dharamshala
Set amidst the pristine form of nature is Shivam Neelkanth Yoga retreat in Dharamshala. This peaceful yoga and meditation centre is located far away from the hustle and bustle of the main city. The Yoga Hall overlooks a beautiful valley and is ideally positioned to learn yoga and other spiritual techniques.
Swami Shivam is the founder of Shivam Neelkanth Yoga Kendra. He has extensive experience of 25 years. Yogi Shivam was born near McLeodGanj and he got this initiation from his mentor Master Dooninath Babaji (75) and has received his training from the world-renowned Sivananda yoga centre in Rishikesh.
Shivam Neelkanth Yoga Kendra in Dharamshala conducts comprehensive 200 hrs yoga teacher training classes and offers short duration yoga retreat starting from 3 days to 10 days.
Shivam Neelkanth Yoga Kendra in Dharamshala offers retreats of ten days, five days, and three days.
The 3 Days Yoga Retreat in Dharamshala include the following:
   

Ayurvedic light breakfast, ayurvedic healing lunch, ayurvedic dinner

   

Intensive daily yoga practise

   

Meditation and open talk sessions

   

Theoretical lectures

   

Accommodation in the ashram
Starting at 12,000 INR or 170 USD. (INR 6000 per day)
Sarvaguna Yoga Dharamshala is located in a quiet and contemplative Guesthouse, in Upper Bhagsu away from the hustle and bustle of the main market area and enclosed between the lofty ranges of the Himalayas amidst the sound of chirping birds and whistling tall trees. Upper Bhagsu is famous for its tranquillity and the ambience makes it ideal for Yoga and meditation. Sarvaguna Yoga also conducts yoga meditation retreats and certified yoga teacher training classes in Agonda, Goa.
Yogi Dr Keshava is the founder and the lead yoga teacher at Sarvaguna Yoga he has an M.Sc., PhD(Psy), M.Sc.(Yoga), M.A (Sanskrit), M.A (Advaita Philosophy) and is Reiki Master Teacher & Healer. He has studied the Upanishads, the Bhagavad Gita and the vedas in their original form in Sanskrit under the mentorship of H.H.Swami Dayananda ji of Himalayas and his senior disciples.
Dr Keshava is committed to bring a deeper change in the life of a student seeker so that they are blissful towards life and have a higher state of consciousness.
Sarvaguna Yoga in Dharamsala offers 100 hrs, 200 hrs and 500 hrs Yoga Teacher Training Courses, Meditation Training Courses, Reiki Training and Yoga Meditation Retreats.
10 Day Yoga-Meditation Wellness Retreat includes the following
   

Local Airport Pick up & Drop off

   

9 nights Single Private Room accommodation with Wi-if

   

All meals- (Healthy, organic, vegan food)

   

2- Herbal teas daily

   

Unlimited Filtered Drinking Water

   

Sarvaguna Yoga Kit(T-shirt, stainless steel water bottle, Yoga bag)

   

A day trek to popular hill station- Triund

   

Visit organised to Dalai Lama Temple and local tourist places
Starting from 58,000 INR or 650 EUR (INR 6400 per day)
Saptrashmi Yoga Ashram located in Palampur, Dharamshala is a Yoga Ashram in Dharamshala. It provides yoga retreats, meditation and naturopathy for people who are looking to take a break from the hustle and bustle of modern life.
Yogi Tarun Sharma is a holistic naturopath, health coach, yoga teacher and founder of Saptrashmi Yoga Ashram Dharamshala. From a very young age, he was fascinated with a healthy and natural lifestyle. With his extensive experience, he strives to inspire people. Saptrashmi Yoga Ashram offers yoga and meditation retreats, naturopathy, alcoholism detox treatment, corporate programs, physical therapy, women's program, etc.
 4 Days, Yoga Detox and Meditation Retreat offered by Saptrashmi Yoga Ashram Dharamshala includes
Detox Therapy

Daily Morning and Evening Yoga Sessions

Meditation Session

1 Ayurveda therapeutic massage with full body steam of herbs

3 nights/ 4 days Accommodation

All Meals and Herbal Drinks
Starting from INR 22,000 or USD 300. (INR 7333 per day)
Located on the hills of Mcleodganj engulfed in greenery is Kailash Tribal School of Yoga Dharamshala. With a picturesque view of the Himalayas and well naturally lit yoga hall, it is the perfect place to practice yoga, meditate and self reflect.
Yogi Sivadas founded Kailash Tribal School of Yoga Dharamshala in the year 2000. With over 30 years of experience teaching yoga Yogi Sivadas focuses on yoga philosophy, mysticism, ayurveda and holistic healing. His teachers and satsangs are influenced by the teachings of Osho, Swami Sivananda of Rishikesh and B K S Iyengar of Mysore. 
Kailash Tribal School offers yoga retreats, sound healing & Reike courses and 200 hrs, 300 hrs & 500 hrs certified Yoga Teacher Training courses in Dharamshala.
6 day Yoga Retreat offered by Kailash Tribal School of Yoga & Holistic Healing Dharamshala includes
Daily morning Tribal Sun Vinyasa Yoga classes

Daily Evening Tribal Moon Hatha Yoga classes

Yoga mats and prop used for practise
Starting from 6000 INR or USD 82. (INR 1000 per day no accommodation and food included)
10. Bhagsu Yoga Institute Dharamshala
Bhagsu Yoga Institute Dharamshala located at the foothills of the beautiful and lofty ranges of the Himalayas, this center provides a peaceful ambience for practising yoga and meditation.
All the teachers at this center are certified, professional, and experienced. Omji is the founder of Bhagsu Yoga Institute Dharamshala, he completed that study of classical Hatha Yoga from Prashanti Kutireem in Bangalore. Omji did his Bachelor of Science in Yogic Education in the year 2010 at SVYASA, Bangalore. Omji has also undertaken yoga teacher training and education at Sivananda Ashram in Kerela.
Bhagsu Yoga Institute Dharamshala conducts yoga retreats, 200 hrs yoga teacher training and provides courses in yoga therapy, Reike and meditation.
Bhagsu Yoga Institute Dharamshala offers 7 days to 10 days Yoga Retreat the details of which are currently being updated.
Conclusion
Top 10 Budget Yoga Retreats in Dharamshala (recap)
Himalaya Shanti Yoga Ashram Dharamshala
Shivam NeelKanth Yoga Dharamshala
Saptrashmi Yoga Ashram Dharamshala
Bhagsu Yoga Institute Dharamshala
So what are you waiting for? Plan a yogic week getaway to recharge, rejuvenate and replenish your mind body and soul. Enjoy the cool mountain breeze of The Himalayas. Book a yoga retreat in Dharamshala. Here is a link to the most interactive list of Yoga retreats in Dharamshala https://balancegurus.com/collection/yoga-retreats-dharamshhala