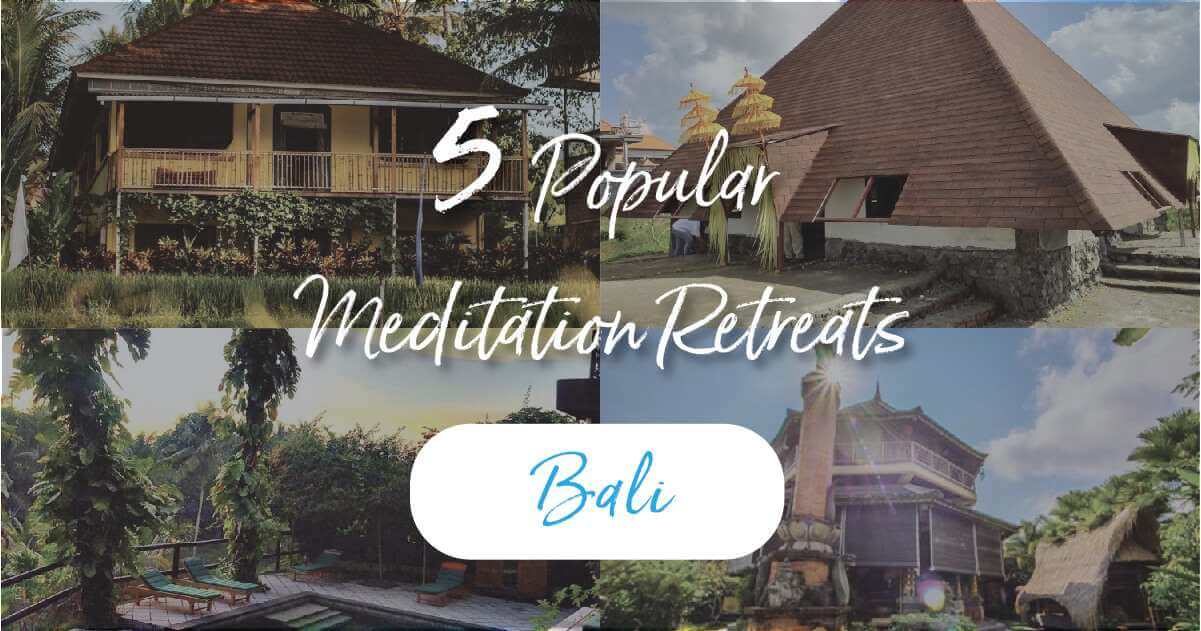 Looking for a place to start your inner journey then these 5 meditation retreats in Bali are great place to start. Experience ancient practice of dark retreat, Ashram Meditation, silent meditation, the healing energy of the pyramids of chi yes all this in Bali and much more.
These five meditation retreats have been sorted according to popularity taking into account the quality & quantity of reviews and web traffic.


1. Bali Silent Meditation Retreat 
Surrounded by green rice fields, protected by the sacred Mount Batu Karu and caressed by natural hot springs in Tabanan, Bali Silent meditation Retreat is the ideal place to start an inner journey of silence and self-exploration. Bali Silent Retreat is an eco-sanctuary for meditation and prayer. The retreat a green-to-extreme philosophy and uses solar electricity, an on-site water distilling, rainwater catchment and a comprehensive recycling system. They support no garbage in/no garbage out policy.
The most famous one day DayPass Meditation Retreat offered by this retreat includes access to all the different Meditation Programs and Events at Bali Silent Retreat during the entire day from the early morning Meditation class at 6:00 am until the Evening lecture or event at 6:00 pm, organic breakfast, lunch, and dinner. Along with the retreats, the centre also offers two meditation sessions and two yoga classes each day.
Location: Tabanan, Bali
Link To: Bali Silent Meditation Retreat
Avg cost meditation retreat per day: US$ 37
2. Anand Ashram Meditation Retreat
Located in Ubud, Anand Ashram under the auspices of Anand Ashram Foundation affiliated with UN through DPI – is one of several self-development centers founded by Spiritual Humanist, Anand Krishna. The 4th President of Indonesia, K.H. Abdurrahman Wahid recognized Anand Krishna's contributions and said, "If we want to have peace, then we must hear what Anand Krishna is saying". The vision of this centre is "One Earth, One Sky, One Humankind".
The most popular 4 Days Ashram Meditation Retreat offered by Anand Ashram includes Kirtan Satsang, Spiritual dialogues, Daily yoga, chanting, meditation, Agnihotra. Anand Ashram also offers Cleansing Meditation, Speedy Relaxation Meditation, Chakra Empowerment Meditation, Yoga and daily meditation classes.
Location: Ubud, Bali
Link To: Anand Ashram Meditation Retreat
Avg cost meditation retreat per day: US$ 30
3. Gaia Meditation Retreat
Gaia Meditation Retreat Center is nestled in the heart of terraced rice fields located in the creative mecca of Ubud. he main meditation practice offered by this meditation centre is Transcendental Meditation Program. Fifty years ago, spiritual leader Maharishi Mahesh introduced the practice to the rest of the world, founding the Transcendental Meditation Program. During the past 50 years, more than five million people have learned the meditation technique and are rising to enlightenment through their twice-daily practice.
The 7 Days Meditation and Yoga Retreat offered by Gaia meditation retreat centre includes an infrared sauna, Daily private transcendental meditation session, Visiting Tegalalang rice terrace and healthy nourishing meals. 
Location: Ubud, Bali
Link To: Gaia Meditation Retreat
Avg cost meditation retreat per day: US$ 472
4. Samyama Meditation Retreat 
Located in the south of central Ubud, Samyama is a place to reconnect; first with yourself and through that with others. A Dark Room Retreat is a unique experience offered by this meditation retreat center. A dark retreat is an ancient practice, especially helpful during challenging times, or when one needs a deeply restorative break. During a dark retreat, one can eat, sleep and practice silently in the dark for as long as possible. 
The 5 Day "Meditation 101" Meditation and Yoga Retreat offered by the centre includes everyday meditation classes, Discourses on scientific research and esoteric meditation philosophies, and Yoga Classes. Samyama Meditation Retreat Centre also offers other retreats such as 3 Day Hridaya Silent Meditation Retreat, 3 Day Meditation and Yoga Retreat, 200 Hour Meditation & Teacher Training Course, and more.
Location: Ubud, Bali
Link To: Samyama Meditation Retreat
Avg cost meditation retreat per day: US$ 199
5. Healing Pyramid of Bali Meditation Retreat
Set peacefully amongst verdant Balinese rice fields and lush greenery in Ubud, the Healing pyramid of Bali Meditation retreat is a complete silence and meditation retreat. The main highlight of this meditation retreat centre is the pyramids constructed based on measurements of the great GIZA pyramid in Egypt. These Pyramids provide the most effective high-energy environments for beginners of meditation and help to reduce the level of stress and tension in the physical body.
The 7 Days Silent Meditation Retreat offered by the Healing Pyramid includes Daily meditation sessions, Personal inspiring counselling, experiencing deep silence, Music Meditation, and pyramid meditation. The Healing Pyramid also offers guided meditation every morning 10-11 am and every evening 8-9 pm.
Location: Ubud, Bali
Link To: Healing Pyramid of Bali Meditation Retreat
Avg cost meditation retreat per day: US$ 41
So what are you waiting for check them out and book yourself a guided meditation retreat.
Bali Silent Meditation Retreat -

Silent Meditation Retreat

Anand Ashram Meditation Retreat -

Ashram Meditation Retreat

Gaia Meditation Retreat -

Transcendental Meditation Retreat

Samyama Meditation Retreat -

Dark Room Meditation Retreat

Healing Pyramid of Bali Meditation Retreat -

Pyramid Meditation Retreat