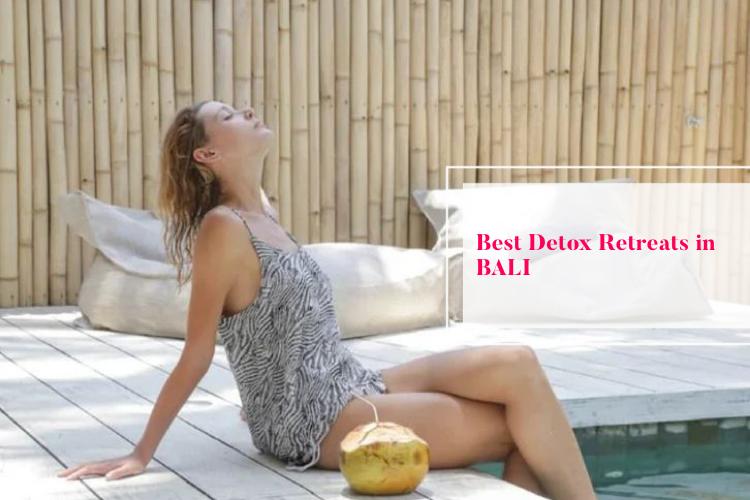 Did you know how hard and how much your stomach and intestines work to digest 3 meals a day plus the junk food and sugar we put in? Now imagine they go on a strike and demand better working conditions and a holiday once in a while. Our digestive system is the one that takes the highest toll for our city lifestyle unbalanced food, coffee, late nights and all that processed junk we glup to satisfy our cravings.
So if you are looking to give a break to your stomach and detox the entire digestive system then what better place to do that than Bali, Indonesia. Here is a list tailor made for you to give you not just the best options for detox but to do it in luxury, comfort and care afterall you deserve it. The list below represents the most popular detox retreats in Bali and has been sorted in descending order of price.
1- Fivelements Detox Retreat Mambal, Bali
Set in a secluded jungle clearing next to a Ayung river in Mambal, Fiveelements detox retreat is an award-winning eco-conscious wellness retreat deeply rooted in the ancient traditions of Bali. Fivelements has won multiple awards with over 30 international recognitions spanning across wellness, spa, design, cuisine and hotel/resort categories. The resort also won numerous awards for the Sakti Dining Room which is dedicated to high-energy healing cuisine. Fivelements offers highly personalised retreat programs inspired by ancient Balinese wisdom, healthy menu, unforgettable cultural and fitness-focused activities. Fivelements Detox Retreat has designed their own Plant-based Cuisine for detoxification, nutrition & vitality.
8 Days Luxurious Yoga and Detox Retreat offered by Fivelements Detox Retreat is the most popular detox retreat and it includes the following
3 yoga and meditation classes

Innovative living foods class training

Personal treatments and healing ceremonies

Special wellness consultation, massages and beauty rituals

Airport pick-up and transfers

Daily low-glycemic meals

7 nights accommodation
This detox retreat includes Balinese healing therapies aimed to detoxify and purify the physical body and the non-physical mind and soul. Depending on your unique needs and retreat goals, the organizers collaborate with you to balance and rejuvenate your mind, body and soul.
Location: Mambal, Bali
Cost of 8 Days Luxurious Yoga and Detox Retreat starts at: US$ 7119 
2- Bali Vitality Detox Retreat Ubud, Bali
The Bali Vitality Detox Retreat is located in the traditional village of Nyuh Kuning, Ubud bordering the sacred monkey forest in Bali. They have been providing detox and weight loss retreats since 2009 and the team of health professionals and nutrition experts have more than 30 years of experience. 
The most popular retreat is a 11 Day Whittle Away Weight Reduction Detox Retreat the main focus of which is healthy weight loss. The retreat is organized in Sonia Villa Hotel so you will get both the luxury of a 4-star Balinese hotel and the benefits of a great detox.
11 Days Whittle Away Weight Detox Retreat which includes
10 Nights Accommodation

Transfers to and from Airport

Daily Care by your own Personal Wellness Assistant

Healing Elixirs, Alkalizing Broth & Herbal powders

Hypnotherapy for Eating and Weight Loss

Daily Yoga Sessions

Daily Far InfraRed Saunas

3 Colonic Hydrotherapy Sessions

3 Ionic Detoxification Sessions

4 Balinese Full Body Massages

2 Hot Stone Luxurious Massages

Nurturing Organic Facial

Organic Body Wrap Coffee or Clay

Royal Boreh Body Treatment

Foot & Leg Pampering Massage

Holy Water Cleansing at Tirta Empul Temple

Excursion to Hot Volcanic Healing Pools at Toyabungkah

Morning walk with Bali Herbal Walks

Raw Food Platter to Reintroduce Foods

Post Retreat Information Pack including Recipes
Location: Ubud, Bali
Cost of 11 Day Whittle Away Weight Reduction Detox Retreat starts at: US$ 3380
3- Udara Detox Retreat Seseh, Bali
Nestled between the Indian ocean, rice fields and surrounded with ancient temples, Udara healing yoga resort offers wellness and detox packages to alleviate the stress of modern living. The construction of Udara has been done in traditional Javanese style by using certified indonesian plantation wood. Udara Detox Retreat Bali features a beautiful spa and 4 unique yoga shalas (3 with ocean view and 1 overlooking the ancient temples) as well as a meditation cave. The surrounding and roofs are completely eco-friendly made of bamboo straws, the detox retreat has solar heater for the hot water system to reduce its carbon footprint. In order to contribute to the community Udara frequently organizes beach cleanups where their team helps remove waste from any surrounding areas or beaches. Udara also offers all yoga classes free for the Hotel guests! 
The 14 Days Unique Four Elements Detox and Yoga Retreat offered by Udara Detox Retreat is the most popular detox retreat and it includes the following
14 days of yoga practice

1 or 2 yoga classes per day

Sunset four elements meditation

Pilates, colonic hydrotherapy, water healing sessions

Balinese full body, hot stone, and Ayurvedic Shirodhara massages

Daily breakfast, lunch, dinner, and drinks

13 nights accommodation

Airport transfer
During this program you will cleanse your body with healthy juices, elixirs and alkalizing supplements and those stubborn kilos will fall away as well! 
Location: Seseh, Bali
Cost of 14 Days Unique Four Elements Yoga and Detox Retreat starts at: US$ 3800
4- The Golden Rock Detox Retreat Bunutan, Bali
The Golden Rock Detox Retreat Bali is located about 3.5 hrs away from Denpasar on the quiet, secluded Aas Beach on the coast of Bunutan which is the north east tip of Bali. The detox retreat architectural design in minimalist there are no loud elements which facilitates inwards exploration. This retreat has been voted by the UK Daily Telegraph Travel as one in the 4 best Detox Retreats in Bali.
The Golden Rock Detox retreat in Bunutan offers Deep fasting, Vitality and fasting retreats. The programmes are structured to give maximum benefits of detox with minimum side effects. The most popular retreat is 7 Days Fasting and Vitality Detox Retreat. You can tailor make your detox for longer stays but the minimum is 4 days and the recommended is 9 days for optimal results. You can also experience other therapeutic treatments such as massage, infra-red sauna treatments, nutrition consultations and supplements along with ozone and oxygen therapy most of them are included in the package but can also be chosen separately. This place offers a mini vacation that when finished leaves you feeling rejuvenated and relaxed.
Location: Bunutan, Bali
Cost of 7 Days Fasting and Vitality detox retreat starts at: US$ 1714
5- Gaia Detox Retreat Ubud, Bali
Gaia Detox Retreat is located in Ubud overlooking the spectacular views of beautiful terraced rice-fields and palm trees. Gaia Retreat is also associated with a 'Pay it Forward' program through Be Organic.me, Bali Angles and Imagine Bali an organisation whose mission is to end plastic pollution.
The 4 Days Detox and Yoga Holiday offered by Gaia Detox Retreat is the most popular detox retreat and it includes the following
Daily Yoga sessions

Daily Guided meditation sessions

Colon hydrotherapy sessions

Two 1-hour full body massage treatment

Daily coconut water, fresh juices and unlimited oxygen water

Cleansing in the holy water temple

Health check and orientation

3 nights accommodation
Gaia detox programs focused on rehydrating and resetting your digestive and sleeping patterns to its optimal level. A minimum of 3 days are required for your physical, emotional, and mental wellbeing to reset.
Location: Ubud, Bali
Cost of 4 Days Yoga Holiday and Detox Retreat starts at: US$ 900
6- Villa Flow Detox Retreat Karangasem, Bali