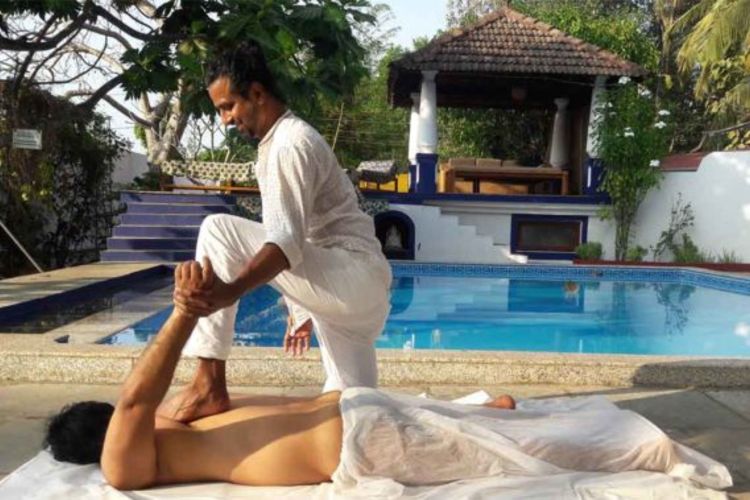 Based on Ashvem beach in North Goa, Rasovai is that one-stop destination for those looking for massage teacher training courses and Ayurvedic massage training course. It was founded in 1996 and is famed for its certified Ayurvedic massage teacher training course (TTC).  
Book a Training @ Rasovai Get upto 15% Off
Rasovai is a massage teacher training & Ayurvedic wellness center which bestows courses that award a gratifying and enriching experience to its students. The teachers at Rasovai: Chetan, Julie & Kunal have a deep comprehension of their art, and passionately share it with others. Chetan Baghel, the founder of Rasovai, is a certified member of the Complementary Therapists Association(CTHA). CTHA is a leading professional association representing sports, spa and complementary therapists in the UK and Ireland.
The massage teacher training course(TTC) offered here has roots in the ancient wisdom & knowledge of Indian yoga & Ayurveda, blended in with modern understanding. For the last 20 years, educating and sharing their knowledge by providing an exceptional massage teacher training course in Ayur Balance Bodywork, Ayurveda Yoga Massage, Abhyanga, Marma Massage and Shirodhara workshops in Goa and Europe.
Rasovai even offers Yoga Anatomy training course & Meditation Teacher Training course for practitioners interested in going deeper into their practice & teach their very own class! You learn much more than technique, you learn a way of healthy life and authentic teacher training. 
People who have been at Rasovai often review this place as profound and inspiring, which teaches them how to approach the physical body and the energetic aura of people in one place. Those who come for the Rasovai massage teacher training course with the purpose of commencing their own massage training classes, feel obliged for the wisdom they gain and talk about how satisfied their clients feel.
Book a Training @ Rasovai Get upto 15% Off
Rasovai, says that the traditional view of fascia has been that fascia in the human body was passive. Its function was only to "hold things together" and transmit mechanical force. But this concept is now outdated. Recent studies have been investigating how fascia contributes to movement, awareness, biomechanics, injuries, and pain.
It is an amazing anatomical system of high importance to human movement. It's defined as a sheet or band of fibrous connective tissue enveloping, separating, or binding together muscles, organs, and other tissues of the body. 
Learn more and experience in-depth about fascia in Rasovai's Yoga Anatomy & Massage Teacher Training Course in North Goa, India.
When it comes to meditation at Rasovai, there are a number of courses where you can take part in meditation and experience a beautiful mind-body transformation. Rasovai has rejuvenating retreats, workshops, individual meditation course, massage teacher training course and class, all awaiting those who have an urge to learn. People who have done the massage teacher training course at Rasovai, recommend it. 
Rasovai training courses welcome students from all over the world. Each place has lodging, boarding, and meal facility. Please check the pages of each teacher training course as to know the individual package of Rasovai's every training course. 
Their mission is to bring a profound level of knowledge in the field of massage teacher training course, ayurvedic training courses, and meditation.