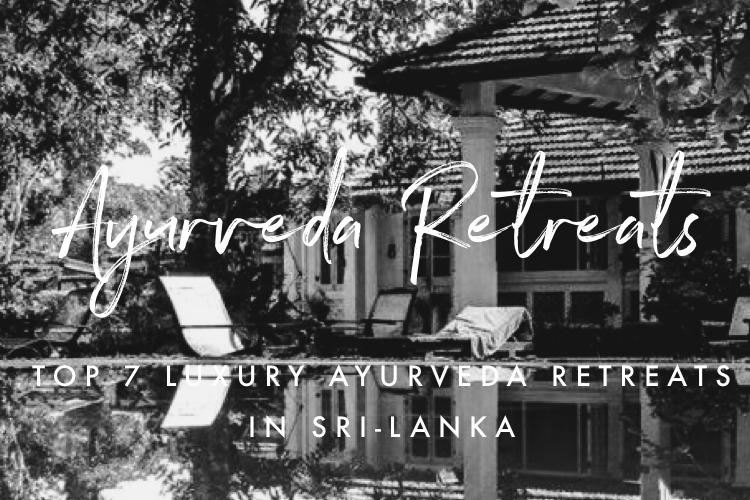 Warm hearted welcoming people, white sandy beaches, timeless ruins, beautiful elephants, budget surfing spots, trains with wide open windows that ply on the beach and inside forests, lush green tea estates and colourful food make Sri Lanka a must visit on every travellers list.
This country, like its bigger next door neighbour is also famous for the practice of Ayurveda and Yoga and many Europeans come to the beach towns of Sri Lanka to get an authentic Ayurvedic Treatment be it rejuvenation, panchakarma or weight loss. If you want to enjoy the best quality service and the best possible locations then this list of 7 most luxurious Ayurveda Retreats in Sri Lanka is where you should start, the list has been sorted in decreasing order of price.
1- Santani Luxury Ayurveda Retreat Kandy, Sri Lanka
Located an hour away from the historic city of Kandy is a minimalistic, multiple award winning Luxury Ayurveda Resort called Santani. Sitting at 2,800 feet above sea level Santani Ayurveda enjoys panoramic views of the scenic lush green hills. The weather is great all year round and ranges between 22-28 degrees. 
The whole ayurvedic retreat is built in harmony with its surroundings, the common areas like the spa and the restaurant are designed to be Wi-Fi free and this downtime is highly appreciated by the retreat seekers of today. 4 Days Personal Dosha Management Ayurveda Retreat is the most popular retreat package at Santani Ayurveda Resort and it includes the following
4 Days Personal Dosha Management Ayurvedic Retreat

3 Nights Luxury Accommodation

Wellness consultation with the Ayurvedic Doctor on arrival and departure

Herbal medication specific to the dosha and health conditions

Detox with purgation and/or enema as recommended by the Ayurvedic Doctor

90 mins group Yoga & Meditation session everyday

90 mins of daily personalized spa treatments based on the body analysis and consultation

Daily use of steam sauna and thermal salt water pool

Guided group walks

Lifestyle discussions and healthy living guidance
Location: Kandy, Sri Lanka
Link To: Santani Luxury Ayurveda Retreat Kandy, Sri Lanka
Avg cost of luxury Ayurveda retreat per day: US$ 413
2- Amuna Luxury Ayurveda Retreat, Sigiriya, Sri Lanka
Spread over a lush 20 acres site at Kumbukkandanwala in Sigiriya near the serene Lake Kandalama is Amuna Luxury Ayurveda Retreat. Amuna retreat has a spa, 8 dwellings, 1 villa and 3 tree houses, each elegantly designed with traditional touches. 
All Ayurveda therapies in Amuna are conducted by experienced therapists under the strict supervision of professional Ayurvedic Doctors and Physicians. Amuna offers traditional ayurveda treatments along with yoga and meditation and a strict in-house diet coupled with rest and relaxation. 
The 14 Days Rejuvenation Retreat offered by Amuna Luxury Ayurveda Retreat is the most popular ayurveda retreat and it includes the following
Free Ayurvedic Consultation from doctors

Individual Diagnosis

Ayurveda Treatments

Free Internal Medication

Panchakarma Treatments

Herbal Body Wraps

Njavarakizi

Ksheeradhara treatment

Herbal Baths

"Amuna" special treatment

Acupuncture treatment

Meditation

Music Therapy

Aromatherapy

Ayurvedic Diet

13 night accomodation
In this Luxury Ayurveda Retreat, dozens of remarkable therapies practiced in bygone eras are integrated into a personalised plan to soothe the senses and strengthen the body from within.
Location: Sigiriya, Sri Lanka
Link To: Amuna Luxury Ayurveda Retreat Sigiriya, Sri Lanka
Avg cost of luxury Ayurveda retreat per day: US$ 265
3- Shunyata Villa Luxury Ayurveda Retreat Induruwa, Sri Lanka
Situated 65 km south of Colombo, Shunyata Villa is located directly on the idyllic Induruwa beach. The Ayurveda village is known for its pristine environment and peaceful beaches. The Ayurveda Resort is very appealing and luxuriously designed, surrounding the main area with its 5 large, extravagant and individually decorated rooms, all facing the sea. 
Shunyata Luxury Ayurveda Retreat is an exclusive resort approved by Srilankan department of Ayurveda and tourism. When it comes to providing the ayurvedic wellness treatment which is supported by qualified and experienced therapists this luxury resort is counted in the list of bests in Sri Lanka. Shunyata Villa has 5 treatment spaces built from natural materials located in the Ayurveda Pavilion near the beach and a pool which is equipped with an ionization system provides healthy and healing water.
The most famous 14 Days Ayurveda Panchakarma Cure Program offered by Ayurveda Shunyata Luxury Ayurveda Retreat includes the following
Initial and final consultation with Ayurvedic Doctor

Ayurvedic medicine on individual prescription

Ayurvedic herbal teas, juices and mineral water

Yoga and Tai Chi

Weekly Ayurvedic cooking demonstration 

Daily head and/or facial massage

Medical foot massage 

Daily full-body massage depending on the prescription

Relaxing massage, deep relaxation massage, synchronous massage

Thermal treatment, powder treatment, herbal packs

Shirodhara

Acupuncture and acupressure

13 nights accommodation
Location: Induruwa, Sri Lanka
Link To: Shunyata Luxury Ayurveda Retreat Induruwa, Sri Lanka
Avg cost of luxury Ayurveda retreat per day: US$ 264
4- Surya Lanka Luxury Ayurveda Retreat Talalla, Sri Lanka