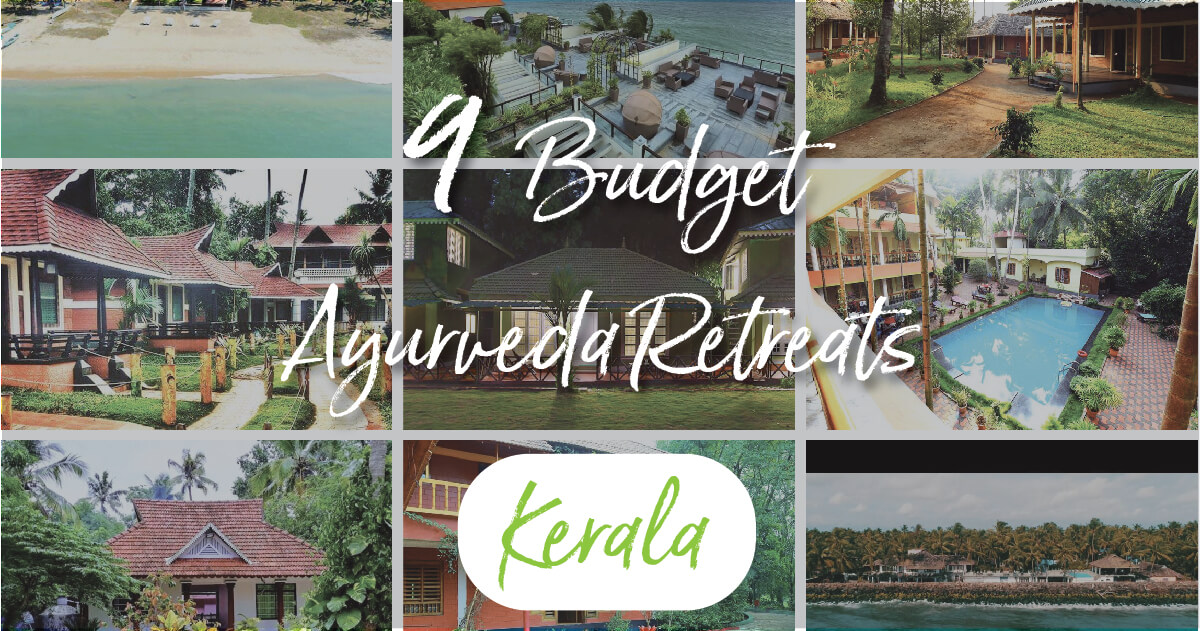 South India' most serenely beautiful state also knows as "God's own Country" is Kerala. Kerala is one of the greenest states of India famous for its glistening backwaters, south India food and tea-covered hills.
Monsoon is the best time to visit Kerala according to Ayurveda as your skin pores open the widest in Monsoon which facilitates the absorption of oils and herbs juices. The government quite recently made this state a dry state (alcohol is forbidden) further enriching the aura of the state. Kerala is the go-to place for all sorts of Ayurveda retreats and treatments but with so much demand also comes an insane supply most of which may not be worth your money. So to help you meet your wellness goal be it detox, rejuvenation or weight-loss we have created a list of 9 most popular Ayurveda Retreats in the budget category sorted according to popularity taking into account the quality & quantity of reviews and web traffic.
Location: Thiruvananthapuram, Kerala
Ideal Ayurvedic Resort situated on the edge of a small village within a canopy of coconut palms just a five-minute walk from Chowara Beach. Ideal Ayurveda Resort boasts an ashram-like setup amidst the luxurious amenities and tranquil ambiance to facilitate with solitude and calm state of mind.
The 15 days Rejuvenation Ayurvedic Therapy Retreat includes Suitable Ayurveda Treatments, Full board Ayurveda vegetarian meals, Daily consultation with Doctors and Internal & External Medicines. Ideal Ayurvedic Resort also offers Panchakarma Treatment, Detoxification Treatment, Ayurvedic Treatment for Weight Loss, and more.
 Link To: Ideal Ayurvedic Budget Ayurveda Retreat
Avg cost budget yoga retreat per day: US$ 90 | 6,691 INR
Book Budget Ayurveda Retreat Kerala get the best price
Location: Thrissur, Kerala 
Namaste Ayurvedic Wellness Centre is situated in a serene village in Chalakudy, which lies on the lap of Western Ghats. This Ayurvedic Retreat offers a home-cooked traditional vegetarian Kerala cuisine. Namaste Ayurveda retreat has eco-friendly cottages and the panoramic view around the wellness center's campus is very refreshing and energizing.
The 5 Days Yoga and Ayurveda Retreat included 3 rejuvenating Ayurvedic massages, 1 steam bath, Head massage, Ayurvedic facial,  feet massage, 5 yoga classes, and 5 pranayamas. Namaste Ayurvedic Wellness centre also offers other Ayurveda retreats like Ayurvedic Body Purification retreat, Ayurveda Panchakarma retreat, Ayurvedic slimming package, and many more.
Link To: Namaste Ayurvedic Budget Ayurveda Retreat
Avg cost budget yoga retreat per day: US$ 118 | 8,773 INR
Location: Thrissur, Kerala
Ayurveda Living Village Ayurveda Retreat is majestically set on the coastline of the Arabian Sea at Kaipamangalam Beach. This is the only place in southern India where one can find a private beach hugging the shores of the Arabian Sea. Ayurveda Living Village gives the opportunity to explore many authentic Ayurveda treatments including Ayurvedic organic vegetarian food. 
The 14 Days Ayurveda Yoga Holiday includes Ayurveda herbal treatments & massages, Ayurvedic vegetarian foods, Medicines, and herbs. This Ayurveda retreat also offers 1 week, 2 weeks, 3 weeks, 4 weeks and 6 weeks health retreat Ayurveda packages.
 Link To: Ayurveda Living Village Budget Ayurveda Retreat
Avg cost budget yoga retreat per day: US$ 117 | 8,699 INR
Book Budget Ayurveda Retreat Kerala get the best price
Location: Kochi, Kerala 
36 Palms is a unique and exceptional beachfront retreat combining traditional Keralan design with modern influences where guests enjoy maximum rejuvenation and relaxation from the beautiful natural surroundings. There are 36 palms growing on the beautiful property - all of which are incorporated into the villa's design and provide beauty, shade, and lots of coconuts.
The 4 Days Relaxing Ayurveda Treatments and Yoga Retreat includes Daily 1 hour yoga class, Daily one-hour Ayurvedic massage, Ayurvedic doctor visit, initial checkup and 3 daily Ayurvedic vegetarian meals. 36 Palms also offers 5 Days Rejuvenation Massage Retreat, 7 Days Mind, Body & Soul Massage, 21 Days Age Halt / Slimming Massage, and more.
Link To: 36 Palms Budget Ayurveda Retreat
Avg cost budget yoga retreat per day: US$ 100 | 7,435 INR
Location: Cochin, Kerala 
Elephant Pass Ayurveda is a serene Ayurvedic resort located by the riverside, the resort combines the pleasure of a forest atmosphere with authentic Ayurveda treatment and wellness therapies. This is a privately owned ayurvedic retreat mainly concentrating traditional ayurveda treatments. Elephant pass resort offers a chance to unwind and have a holiday of a lifetime, while simultaneously rejuvenating body and mind through effective, efficient Ayurvedic treatments.
The 3 Days Ayurveda Rejuvenation and Yoga Retreat offered by Elephant Pass is the inclusion of Daily one Ayurvedic massage session, Consultations with the doctor, Daily internal medicines and Daily two yoga sessions. Elephant Pass also offers a wide range of ayurvedic treatments such as Abhyangam, Medicated Steam Bath, Rejuvenation, Foot Massage, and many more.
Link To: Elephant Pass Budget Ayurveda Retreat
Avg cost budget yoga retreat per day: US$ 93 | 6,914 INR
Book Budget Ayurveda Retreat Kerala get the best price
Location: Alleppey, Kerala 
Surrounded with coconut palm, facing the Arabian Sea Beach Paradise Resort is located in the backwater town Alleppey. Its surrounds are fortunated by greenery and are a natural habitat of many local birds. This Ayurveda retreat is built on a conceptual natural fisherman's village, Beach Paradise's esteemed guests have the opportunity to experience local fishermen working in their traditional style. 
The 22 Days Ayurveda Panchakarma Detox, Meditation and Yoga Retreat offered Beach Paradise includes Ayurveda Panchakarma practices, Yoga classes, Meditation classes, Ayurveda detox and Alleppey backwater cruise. Beach paradise ayurvedic retreat also offers 14 days Rejuvenation Programme, 7 days Stress Relieving Programme and 3 days Relaxation Programme.
Link To: Beach Paradise Budget Ayurveda Retreat
Avg cost budget yoga retreat per day: US$ 111 | 8,252 INR
Location: Varkala, Kerala 
Casa Eva Luna Ayurveda Retreat is located in a tranquil rural area of Varkala, surrounded by coconut trees on a 3,000 square meters property. This Ayurveda Retreat offers authentic Ayurveda treatments and yoga classes carried out by native professionals. Ayurveda holiday at Casa Eva Luna combines various enriching activities, such as a visit to the Sivagirii ashram and the 2,000-year-old Vishnu temple of Janardhanawarmy.
A 7 Days Yoga and Ayurveda Retreat included Daily yoga classes, Panchakarma Detox, All Ayurveda massages and Local excursions. Along with Ayurveda retreat, Casa Eva Luna also provides workshops in Ayurveda.
Link To: Casa Eva Luna Budget Ayurveda Retreat
Avg cost budget yoga retreat per day: US$ 92 | 6,840 INR
Book Budget Ayurveda Retreat Kerala get the best price
Location: Kovalam, Kerala 
Raviz Ayurveda resort located in a grove of coconut palms that sway lightly to the rhythm of the sea breeze in Kovalam, Kerala. This Ayurveda resort is known for its exquisite accommodations, traditional and world cuisine and impeccable service that spreads across 65 acres. This ayurvedic hotel has 4 restaurants, an Ayurvedic spa and a fitness room with a river view. 
The 8 Days Body Purification Based on Panchakarma Retreat offered by Raviz Ayurveda Retreat includes Daily Ayurveda treatment, Prescribed Ayurveda medicines and Full board Ayurveda meals. This budget Ayurveda retreat centre also offers 15 days Detox Package, 15 days  Panchakarma Package, 8 days Skin Care Program, and many more.
Link To: Raviz Budget Ayurveda Retreat
Avg cost budget yoga retreat per day: US$ 217 | 16,133 INR
Location: Kartikulam, Kerala