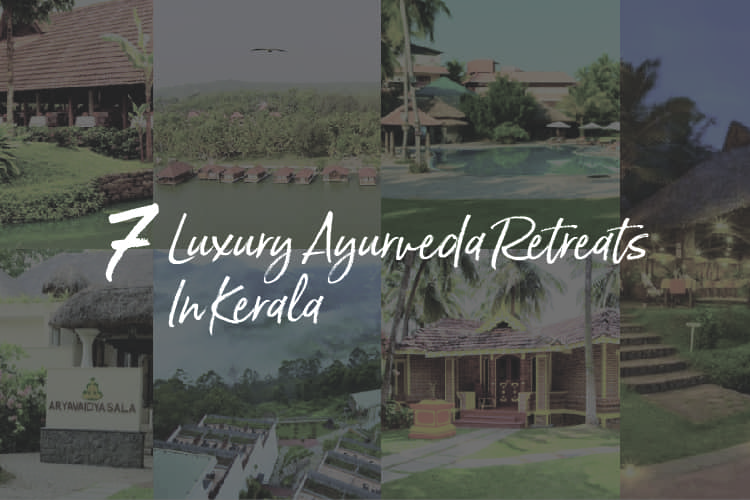 If you are looking for a luxury Ayurveda retreat in Kerala (God's own country) be it panchakarma, rejuvenation, natural weight-loss, de-stressing or anti-ageing then this list will surely help you select the right Ayurvedic centre.
The centres in this list are all green leaf certified which is the highest quality certification provided by the government of Kerala hence you can expect the highest quality and care. Be prepared to be pampered beyond your expectations.
The list has been sorted in descending order of cost (High-low).
Location: Mararikkulam North, Kerala
With exquisitely furnished villas, private pools, lunch cruises on backwaters, royal houseboats and world-class dining, Carnoustie Ayurveda & Wellness Resort is one of the most luxurious Ayurveda resorts in Kerala. Carnoustie resort has featured in Forbes and received the esteemed awards multiple times as the winner of Geo Asia Spa Awards, Travel Awards, World Luxury Hotel Awards and Travel Awards for Business Destination. The resort is decorated intricately with a hint of Balinese art and decor. The Aryavaidyashala that is, the ayurvedic spa at the resort offers a wide range of packages for stress management, weight loss, rejuvenation and the most popular, anti-ageing. 
Amenities and Activities: private swimming pools, cycling tours, morning yoga classes, spa, hiking, golf court, mouth-watering seafood
Link to Carnoustie Luxury Ayurveda Retreat
Get Best Deal for Luxury Ayurveda Retreat Kerala
Location: Kottayam, Kerala
Nestles on the serene banks of the Lake Kumarakom is Kumarakom Lake View Resort acclaimed as the finest luxury heritage resort in Kerala. The Royal Highnesses, Charles Prince of Wales, and Camilla Duchess of Cornwall chose to spend the 65th birthday of Prince Charles at heritage-rich Kumarakom Lake Resort. The villas, rooms and suites in the resort are a perfect blend of Kerala's traditional architectural charm with complete luxurious and modern comforts. This Luxury Ayurveda Resort has a 200-year-old Ayurmana. Kumarakom Lake View Resort offers a wide range of ayurvedic treatments and packages including weight reduction, anti-aging, rejuvenation, de-stressing and panchakarma.
Amenities and Activities: infinity swimming pool, fitness centre, water sports, banana boat rides, traditional dance drama
Link to Kumarakom Lake Luxury Ayurveda Retreat
Location: Trivandrum, Kerala
Enveloped in serene Kerala backwaters on the South-Western tip of India Poovar Island Resort offers a truly enchanting experience, whilst relaxing or enjoying therapeutic Ayurvedic treatments at the resort. This Ayurvedic resort is built on 25 acres of lush green coconut gardens alongside the beach and is the only ayurvedic resort in India to have floating cottages and villas which are afloat on the backwaters and face the sea.
Activities and Amenities: motorboat cruise, cookery classes, boat rides, swimming pool, outdoor barbecue, sightseeing
Link to Poovar Island Luxury Ayurveda Retreat
Get Best Deal for Luxury Ayurveda Retreat Kerala
Location: Palakkad, Kerala
Known as one of the leading Ayurvedic health retreats in Asia, and among the best wellness centres in the world, Kairali - The Ayurvedic Healing Village brings to you the heights of luxurious hospitality, fitted with the best of modern facilities. Kairali's luxury villas are based on the ancient edicts of 'Vaastu Shastra'. Kairali has also won the World Luxury Spa Award 2019 as the best ayurvedic spa in Asia. The Ayurvedic Healing Village is NABH Certified for the best Ayurvedic Panchakarma Clinic and also provides personalized ayurvedic treatments.
Activities and Amenities: art galleries, yoga classes, live music performances, sightseeing, cooking classes, meditation, wildlife drive
Link to Kairali Luxury Ayurveda Retreat
Location: Kovalam, Kerala
On the beach, nestled in the palm groves is Uday Samudra Hotel with 225 Rooms, 5 Restaurants, 3 Swimming pools, 5 Star Beach Hotel is the only complete wellness & Ayurveda resort luxury destination in its own right. Ayurashram Ayurveda Centre in the Ayurvedic Beach Hotel provides the time tested treatments of Ayurveda in a traditional ambiance & hygienically maintained environs. In addition to having a Holistic Ayurveda experience, enjoying a great stay with complete makeover for the body and soul is what this resort is all about.
Amenities and Activities: swimming pool, library, gym, sightseeing, spa, health club
Link to Uday Samudra Luxury Ayurveda Retreat
Get Best Deal for Luxury Ayurveda Retreat Kerala
Location: Munnar, Kerala
Set in a rural backwater, amidst authentic Keralan culture Fragrant Nature Backwater Resort has been benefiting guests with its authentic ayurvedic treatments. Prana Wellness Spa at Fragrant Nature offers carefully designed authentic Ayurvedic therapies and ancient Vedic wellness practices like traditional Panchakarma. Vedic way of wellness can be explored at its Ayurveda Spas in its purity. The resort has its own certified farms that come pesticide-free, nutrient balanced food products are used as diet during treatment to ensure maximum benefit.
Activities and Amenities: cruise boat, village cookery demonstration, boat trips, local picnics, elephant riding
Link to Fragrant Nature Luxury Ayurveda Retreat
Location: Kovalam, Kerala
World's First Ayurveda Village with a Resort Ambiance Somatheeram is a luxury in Kovalam with ten times winner of state award from the government of Kerala. It offers a wide range of beauty care & anti-stress programs along with shodhana chikilsa, rasayana chikilsa, anti-ageing, and weight loss program. In addition to undergoing a rejuvenating experience through Ayurveda, the Somatheeram Village is set up in a beach ambiance from where one can relish the scenic sunset views. 
Amenities and Activities: ayurvedic cuisine, cultural programs, swimming pool, multilingual staff
Link to Somatheeram Luxury Ayurveda Retreat
Top 7 Luxury Ayurveda Retreats in Kerala India (recap)
Carnoustie Ayurveda & Wellness Luxury Resort -

Luxury beach Ayurveda retreat

Kumarakom Lake Resort -

Heritage Ayurveda retreat

Poovar Island Resort -

Luxury beach Ayurveda retreat

Kairali - The Ayurvedic Healing Village -

Award winning Ayurveda retreat

Uday Samudra Leisure Beach Hotel -

Luxury beach Ayurveda retreat

Fragrant Nature Backwater Resort -

Authentic backwater Ayurveda retreat

Somatheeram Ayurveda Village -

Luxury Ayurveda retreat
This list has been created by analyzing traffic, reviews, social media reputation, average cost packages and data from https://balancegurus.com/.
If you are planning an Ayurveda holiday in Kerala then this list is a perfect place to start. If you are looking for the best deals for your ayurvedic escape please get in touch with us.