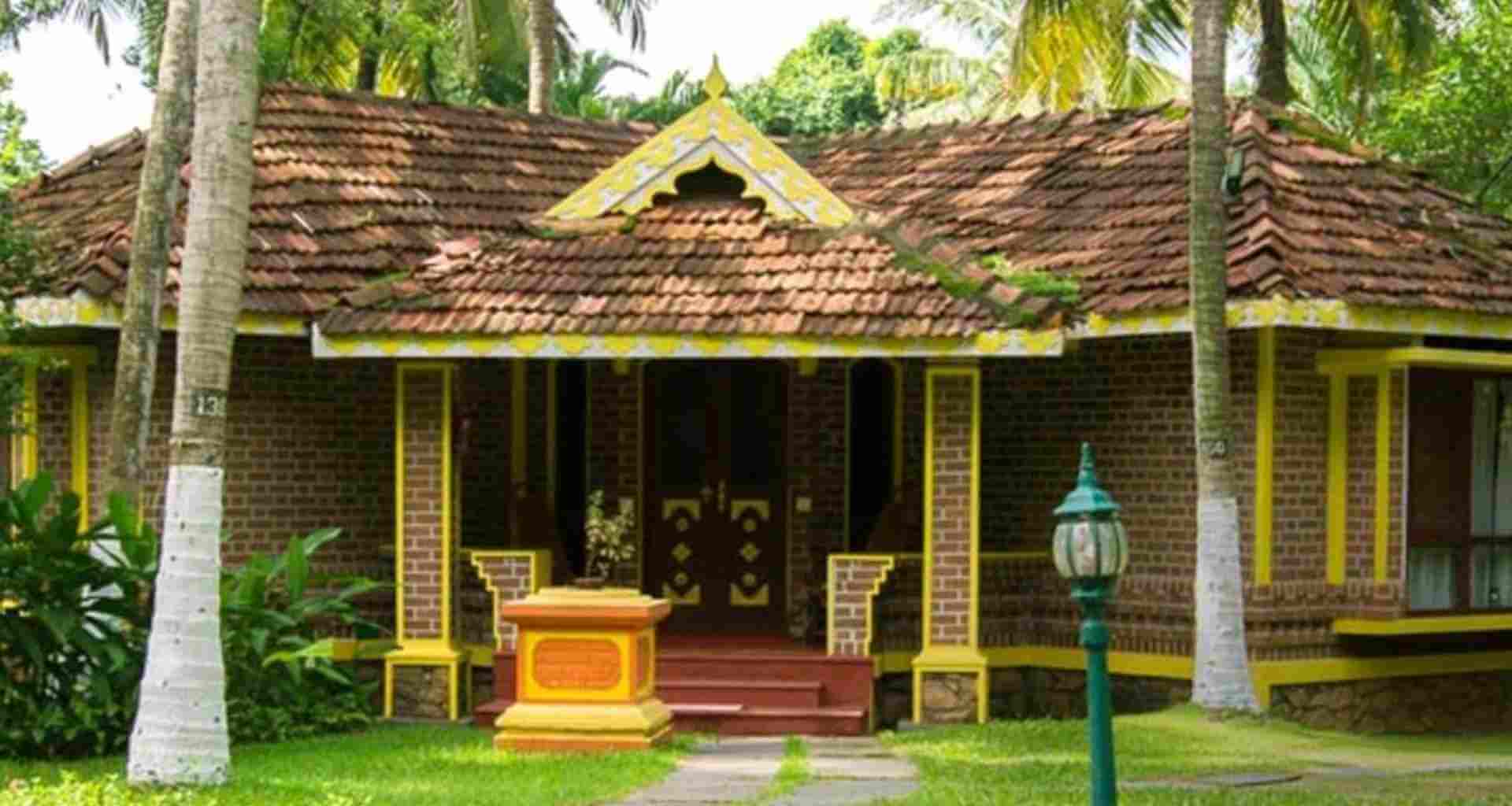 Dwelling in the midst of a blooming flora, the realm of Kairali Group does justice to the beauty of God's own land, Kerala. A view from the top shows how beautifully the palm trees environ. And how it holds its balance between mother nature and modern luxury. 
Kairali: The Ayurvedic Healing Village, situated in Palakkad, is 50 km/ about 1 hr from Coimbatore airport by road. Reaching there you find acres of organic farmland surrounded by a jungle sanctuary, there are forest elements sauntering in and out of the hood. Home to a diverse species of birds and butterflies. The center has won the World Luxury Spa Awards, 2019 as the best ayurvedic spa in ASIA. It brings to you the heights of luxurious hospitality, fitted with the best of modern facilities offering a library, swimming pool, tennis court, conference halls, and amphitheater. The villas here have that exquisite Laurie Baker-style architecture showing heavy usage of laterite stones and red-tiled sloping roofs. A stream of water flows through the resort, soothing your senses. Each villa is facing this stream of water. Guests get assigned with villas according to their zodiac signs. The design of these villas inculcate Vaastu Shastra. The rooms have red oxide flooring and are adorned with a rare Valampuri conch shell, you will adore.
Book a Retreat Get upto 40% Off
The directors hail from a long family lineage of traditional Ayurvedic doctors, something that's so rare to have. Upholding and carrying forward that trust built over years with the world. The Healing Village offers various Ayurvedic treatments. Like Abhyanga, Shirodhara, and the celebrated panchakarma and rejuvenation package. While remaining true to the ancient Vedic practices in every respect. People rediscover their bodies, rejuvenated here, in an environment purposely built to heal.
Most visitors arrive at this center to treat bodyweight issues. Thus they prefer Panchkarma therapy, or the rejuvenation and detoxification treatment. Men and women with genuine medical problems approach here to get cured by Ayurveda. And you know what, The Ayurvedic Healing Village is NABH Certified for the best Ayurvedic Panchakarma Clinic. The system here also has a prescribed diet plan which is to be strictly followed. The diet plan differs from person to person, depending on what the body needs and what fits best for you to be successfully cured. For many, it's difficult in the beginning but people understand the importance and get used to it. As time rolls on, the same people are grateful to their doctors.
The Ayurvedic Healing Village offers numerous forms of ancient guidance including astrology, palmistry, traditional Indian rituals (pujas) and lectures in Indian philosophy. Also, hear their admirable feet: encouraged by their managing director, Mr. K.V. Ramesh, Kairali provides support and medical care for blind children. In association with the Helen Keller Centenary Memorial Model School for the Blind. They adopt a girl every year and provide her a corrective surgery. Beautiful isn't it?!
The group also provides agricultural land to local farmers in economic difficulty. And grows their own organic food, adding value to your overall health, something which reasons the price.
The time spent here will leave you wondering whether you're experiencing the height of modern luxury or have time-traveled to India's distant past. To know more about the treatments, packages or to book your experience at Kairali visit this link https://balancegurus.com/location/india/palakkad/kairali-ayurvedic-hotel-spa.