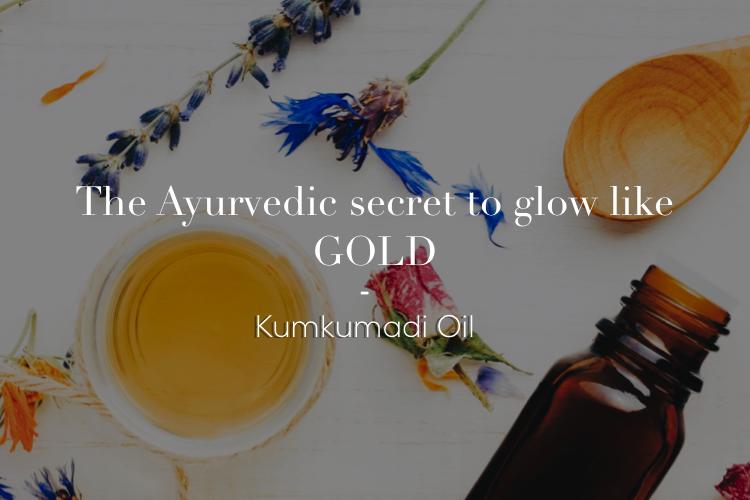 One of the most talked of and celebrated oil concoctions in Indian Ayurveda is Kumkumadi oil aka Kumkumadi Tailam, it is also known as the 'Miraculous Elixir' which when applied at night makes your face glow like gold.
What is Kumkumadi oil made of?
Kumkumadi Tailam is a product that all ayurvedic wellness and cosmetic brands make. It is a concoction of more than 21 herbs and a base of rosewater, Sesame Oil and Goats milk (yes vegan's would have to search for vegan Kumkumadi Oil). Kumkumadi gets its name from the main and most expensive ingredient Saffron called Kumkum in Sanskrit. The best quality Saffron is procured from Kashmir in the north of india.
Ingredients and their benefits
Saffron : Rich in antioxidants, famous in lightening the skin colour and improving complexion

Padmaka (Indian lotus) : Extracted from Lotus flower helps in reducing pain and inflammation

Nilotpala (Indian Water Lily) : Extracted from water lily vital in brightening complexion, soothing irritation, moisturising and regenerating the skin
Manjistha : Blood purifier, this red root improves blood circulation
Yashtimadhu (Indian liquorice) : Roots of Glycyrrhiza glabra tree improve wound healing and reduces inflammation
Chandana (Sandalwood) : Reduces pimples, acne marks, blemishes, suntan, dullness and excess oil from the skin
Laksha : Effectively helps in wound healing, healing of fractures, relief from burning sensation and nasal bleeding
Daruharidra (Tree turmeric) : Anti-inflammatory and antiseptic
Vetiver : Calms the mind and balance hormonal disorders
Vata or Banyan : Helps in treating moles and various skin infections
Kamala Kesara (lotus stamen) : A natural skin conditioner helps in hydrating and moisturising the skin. It prevents acne breakout and dry skin
Apart from the above mentioned there are also 10 medicinal roots 
Bilva (Bael) : Anti-bacterial
Agnimantha : Improves skin texture, prevents dark circles, blemishes, breakouts, scars left after the healing of acne, suntans, and various signs of aging. Give skin a consistent glow.
Shyonaka : Detoxifies the blood and helps in rapid healing
Gambhari : Antioxidant reduces inflammation and improves wound healing
Patala : Used to treat burns, wounds, reduces blisters, and provides relief from pain and burning sensation
Shalaparni : Helps treat allergy, skin infections and provides relief from redness, itching, and dryness
Prishnaparni : Fights against skin infections and facilitates wound healing
Gokshura : Prickly dried fruits of the gokshura tree helps in treating the various signs of aging like wrinkles, fine lines and dark circles
Brihati : Nourishes and rejuvenates the skin
Kantakari : Helps in wound healing
Madhuka : Extracted from the Madhuca indica tree soothes skin inflammations and provides relief from itching and burning sensation
Pattanga : Blood purifier helps treat acne, pimples and boils 
How to use Kumkumadi oil?
It is best to apply Kumkumadi oil on the face only at night, you can do this in 3 easy steps
PRE-OILING : Cleans your face make sure all oil and dirt is removed and the face is soft towel dried after that don't use scrub

OILING : Take not more than 3-7 drops of  Kumkumadi oil on your palm and rub both palms together so as to make the oil a little warm. Now, apply it on your face, and neck. Massage for 5 minutes with outward and upward strokes until Kumkumadi tailam is completely absorbed into the skin

POST-OILING : Remove after 30 mins with a warm wet towel or natural cleanser
Can Kumkumadi oil be used during the day?
Since the oil has real Saffron it is not advisable to use during the day as it increase the possibility of getting a tan.
Can people with oily skin use Kumkumadi oil?
You can use Kumkumadi paste or Kumkumadi night serum rather than the oil.
How long does it take to show results?
Regular application for upto 3 weeks for visible results.
Can Kumkumadi oil be used on Babies?
Use on infants is not recommended.
Can people who have acne use Kumkumadi oil?
Not recommended if you have acne already but, advised to consult a Dermatologist (skin doctor).