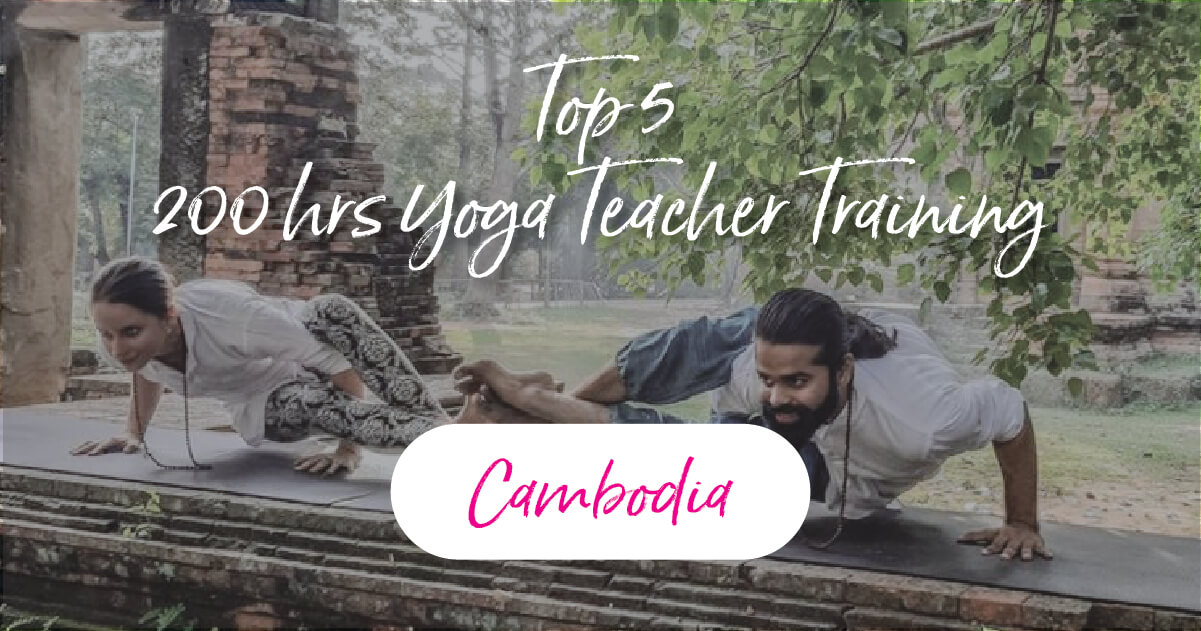 Cambodia is the place on earth where the ancient and the modern worlds collide to create authentic experiences, this kingdom is famous for its charm and magic. Cambodia, especially Siem Reap has gained a lot of love from the Yoga Community and there are many yoga retreats and yoga teacher trainings being organized each year.
200 hours Yoga Teacher Training certification is where the journey of yoga teacher training starts, though there are many certifying authorities like Yoga Alliance International, Yoga Alliance UK, Yoga Alliance Australia and Yoga Alliance USA, a certification from Yoga Alliance USA is the one that is most popular and sort after. If you are looking for a 200 hours yoga teacher training course in Cambodia then these are some of the best and the most popular options, the list has been sorted according to popularity taking into account the quality & quantity of reviews, web traffic and social media :


1- Vagabond Temple Yoga Teacher Training
Vagabond Temple located in Kep a small town on the Cambodian coastline known for its tranquillity and beautiful combination of mountain, jungle, and ocean views. The centre was founded by Pazit and Kobi, who are the lead yoga teachers of Vagabond Temple. This centre offers a variety of yoga retreats and yoga teacher training in Cambodia, India, Europe and even some online.
Founder of Vagabond Temple Kobi is a spiritual teacher who has extensive teaching history. After being certified in yoga from Bhagsu institute of yoga he trained and continues to be taught by iconic masters globally, including Mantak Chia and Prashant lyengar. Pazit cofounder of the centre has a broad range of experience in teaching, leading group workshops and personal coaching. She has taken part in a variety of Buddhist retreats, while deepening her yoga practice, she became a certified yoga teacher as well as a Kundalini yoga teacher as taught by Yogi Bhajan. 
The 26 Days 200-Hour Hatha Yoga Teacher Training offered by Vagabond Temple includes following
200 hours intensive yoga training

Mantra, chanting, and Kirtan singing

Rituals and fire ceremony on a full moon

Opportunity to connect with an international spiritual community

Daily vegan meals, teas, and fruits

25 nights accommodation

Visit to the local Pagoda

Detailed manual
This 200hr Yoga Teacher Training is suitable for those who wish to deepen their spiritual journey, experienced yogis looking to take the practice to the next level, and anybody who wishes to share the knowledge of yoga by teaching others. Vagabond Temple also offers Holistic Healing Training, Reiki Healing Courses, Fasting Detox and Meditation Retreat. 
Location: Kep, Cambodia
Link To: Vagabond Temple Yoga Teacher Training 
2- Blue Indigo Yoga Teacher Training
Blue Indigo Yoga is a small, intimate and popular Yoga & Meditation center located downtown in a quiet garden in Siem Reap, Cambodia. The centre has a 100 square meters well-ventilated shala built from traditional materials for yoga and meditation. The centre provides daily classes, retreats, teacher training, meditation and workshops.
Blue Indigo Yoga training centre was founded by Jean, a certified Aerial Yoga teacher in the year 2014. Jean and Diwakar Dadhich are the lead yoga teachers at this centre, Diwakar Dadhich is a 500hr yoga alliance certified teacher who has been practicing yoga since his childhood. Diwakar follows all the Yamas and Niyamas and concentrates on an individual's lifestyle, his sessions are focused relaxing, energizing, and stress-free yoga techniques.
The 29 Days 200 Hours Traditional Hatha Yoga Teacher Training offered by Blue Indigo includes following
Daily yoga practices

Daily meditation sessions

Learning about yogic cleansing methods

Classes on yoga philosophy, theory, and more

28 nights accommodation

Daily vegetarian meals

Reflexology massage

Airport transfer
This 200hr Yoga Teacher Training will be taught according to the ancient scriptures and coupled with modern medical and scientific explanations. You will also experience the holistic practice of yoga involving all five aspects of the human system such as physical, mental, intellectual, emotional, and spiritual. Blue Indigo Yoga also offers 50hr and 300hr yoga teacher training, daily yoga and meditation classes.
Location: Siem Reap, Cambodia
Link To: Blue Indigo Yoga Teacher Training 
3- Mahamukti Yoga Teacher Training
Mahamukti Yoga organizes its Yoga Teacher Trainings at Navutu Dreams Resort which is located on the outskirts of Siem Reap town in a beautiful family-friendly boutique resort. Navutu Dreams boasts the largest green space of all Siem Reap resorts, offering well-appointed accommodations and a rejuvenating yoga holiday where guests can fully rest, relax and getaway. 
Mahamukti organizes a variety of yoga retreats and 100, 200 and 300 hour yoga teacher training courses. Mahamukti Yoga Training Centre also has branches in the spiritual city of Rishikesh, Dharamshala and Goa in India. 
Akhilesh Bodhi, professional Yoga instructor and spiritual mentor is founder of the Mahamukti Yoga Training Centre. He studied with Geeta Iyengar and Prashant Iyengar and has also trained with Ramananda Patel from San Francisco USA. Akhilesh has deep understanding and extensive knowledge of Yoga practice and teaches modern ways of BKS Iyengar and K.Pattabhi Jois styles for the international yoga seekers.
The 22 Days 200-Hour Multi-Style Yoga Teacher Training offered by Mahamukti Yoga includes following
Daily yoga asana

Teaching skills and Satsang

Meditation, kriya, pranayama

Ayurveda, Patanjali yoga sutra or anatomy

Daily breakfast, lunch, and dinner

21 nights accommodation
During this training you will practice asanas, learn more about the anatomy and physiology of the human body with its relation to yoga practice. Also, discover the spiritual and philosophical aspect of yoga with the study of yogic texts.
Location: Siem Reap, Cambodia
Link To: Mahamukti Yoga Teacher Training
4- Himalayan International Yoga Teacher Training
Himalayan International Yoga Centre is located in the resort town next to the Siem Reap river. The world-famous Angkor Wat temple, the single largest religious monument in the world, is situated just 5 kms from the yoga retreat center. This Yoga Alliance Certified Yoga Training School offers authentic yoga including Yoga Therapy, Raja Yoga (Patanjali's Ashtanga and Hatha), Karma Yoga and Bhakthi Yoga.
Krishna Raja, who is the lead yoga teacher at this training centre is a Certified Yoga teacher and Yoga Therapist. He has been practising Yoga since he was 8 years old. He underwent and completed successfully the Teachers Training Program at Sivananda Ashram. Krishna has been teaching Yoga for many years and his teachings are based on Holistic Integrated approach coupled with modern medical and scientific explanations.
A 29 Days 200-Hour Mindfulness and Therapy Yoga Teacher Training offered by the Himalayan International Yoga includes following
Yoga therapy and mindfulness

Preparatory exercises for asanas

Daily yoga and meditation classes

The practice of asanas, pranayama, mindfulness, and meditation

Theory and practice of yoga sutras

Daily vegetarian Ayurveda and yogic meals

28 nights accommodation

Airport transfers
This yoga teacher training will cover all aspects of traditional, holistic, authentic yoga with Patanjali's eight-limbed Ashtanga yoga. Along with yoga teacher training Himalayan International Yoga also offers Meditation Teacher Training Course, Silent Retreat, Yoga Workshop and Yoga Retreat Packages.
Location: Siem Reap, Cambodia
Link To: Himalayan International Yoga Teacher Training
5- Tavoos Garden Yoga Teacher Training
Tavoos is a non-profit school located in Siem Reap founded by a group of wellness and humanitarian experts from Canada, Netherlands, and Cambodia. As a non-profit, social venture, 100% of proceeds from Teacher Training Courses and Retreats goes back into community projects such as installing water wells and providing education for women. Tavoos is designed as a multi-purpose venue with the largest outdoor covered Yoga Shala, an indoor Yoga studio  as well as onsite restaurant cater with a wide range of regular, vegetarian and vegan dishes.
Madhav has been the director of Tavoos Yoga Teacher Training Programs since 2018 and is especially known for his Teacher Training role as a lead teacher in Yoga Ashram, India. In his teachings, he deeply focuses on passing the ancient truth and traditions of yoga by developing self discipline in areas such as spirituality, mental strength, physical movement and awareness.
The 20 Days 200-Hour Certified Yoga Teacher Training Course offered by Tavoos Garden includes following
Daily yoga and study

Meditation and intro to meditation

Asana theory, alignment, and adjustment

Continued support through video series

Self-practice and practice pairs

19 nights accommodation

3 daily healthy meals
This training offers traditional teachings of yoga and has small class sizes of 15-20 people maximum to ensure a deeply personal experience. Also the students who graduate from the 200-hour training, are eligible for discounted rates to attend the 300-hour program. Tavoos Garden also offers daily free yoga classes. 
Location: Siem Reap, Cambodia
Link To: Tavoos Garden Yoga Teacher Training
To book yourself a spot at one of these 200 hour Yoga Teacher Training in Cambodia talk to one of our Travel Specialists contact us at [email protected] to discuss tailor-making your experience.


Vagabond Temple 200hr Hatha YTT - 26 Days - approx US$ 1875
Blue Indigo 200hr  Traditional Hatha YTT - 29 Days - approx US$ 1600
Mahamukti 200hr Multi Style YTT - 29 Days - approx US$ 2600
Himalayan International Authentic YTT - 20 Days - approx US$ 2300
Tavoos Garden Traditional YTT - 22 Days - approx US$ 2080