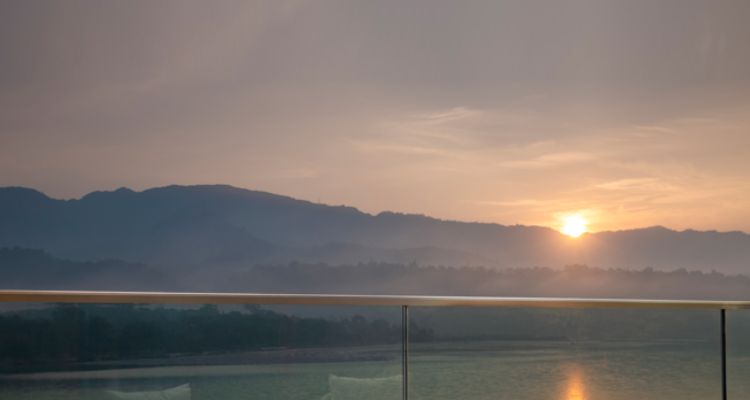 Popularly known as the birthplace and world capital of yoga, Rishikesh is more than its culture. The beauty of the grand Himalayas, the serenity of the Ganges and the unfiltered air are just some of the highlights of the location. Welcoming patrons of various age groups from across the world, Rishikesh is a hotspot for those who wish to 'Eat. Pray. Love' their way to wellness and revitalization of their senses. Home to various yoga, wellness, ayurvedic and naturopathy centres and retreats providing a range of options for travellers based on their wellbeing goals and budgets.
This article will explore some of these to provide valuable insight to help you choose from the comfort of your home. The list of Top 7 Luxury Wellness and Yoga Retreats Rishikesh had been sorted in descending order of price per day (high - low).
Take a minute, close your eyes, and imagine the picturesque foothills of the grand Himalayas filled with beauty and serenity away from any hustle and bustle of the city. As you slowly take in the mountains, think of a luxurious and enchanting palace inhabited by Maharajas, straight out of your dreams. In a few words, that is Ananda in the Himalayas, winner of multiple awards over the years and recently voted the No.1 destination spa by Conde Nast Traveler in 2019 & 2020. A popular destination among wellness lovers and global celebrities alike, Ananda, has been known for its location – allowing patrons eye-pleasing views of the mountains and the Ganges; with the estate being spread across 24,000 square feet to create immersive yoga and wellness retreat experiences.
Ananda's purpose to help individuals find synchroneity within themselves to create a balance of the mind, body and soul can be experienced through 80 such programs that the yoga and luxury wellness retreat offers. With introductory and comprehensive wellness programs, some of them are Ananda signature holistic detox retreat, stress management retreat, weight management retreat, ayurvedic rejuvenation & immunity booster retreat, chronic pain management, yogic detox retreat, active fitness, panchakarma, dhyana meditation, and more. The programs range from a minimum of 5 days to 28 days depending on the individual's wellness goals they would like to achieve through this experience. With over 20 years of the spa's existence and experts in the fields of yoga, Ayurveda, therapists, nutritionists and chefs collaborating their efforts to create select tailored experiences; Ananda Spa and luxury yoga retreat Rishikesh not only aims at holistically nourishing and rejuvenating the body but the mind and soul too. 
The estate which was an Indian Maharaja's residence is straight out of history books. The palatial living accommodates 70 carefully crafted rooms including 3 garden suites with private gardens, the Ananda Suite with a large private garden and a sprawling view of the valley, the Viceregal Suite that also includes a private garden with a spacious dining area, antique furniture and a terrace overlooking the palace estate, and 3 grand villas including a private sauna, butler and pantry service and a private pool & deck area for a truly relaxing retreat. The resort also offers various dining experiences, with whole organic foods and nutritious meals designed and prepared by ayurvedic doctors and chefs for the perfect farm to table indulgence. 
"Going to Ananda is more like a pilgrimage than a visit", if Oprah Winfrey's words were a testament to what this resort spa can do for an individual; then it is truly a pilgrimage for the mind, body and soul.
Average Cost Per Day: INR 44,000 or USD 604
2. Taj Rishikesh Resort & Spa
Tucked away amidst the Himalayas, in a small pocket of a village called Singthali, rests and breathes the beautifully designed Taj Retreat & Spa Rishikesh. With its architecture paying tribute to its natural terrains, blending into its surroundings and built from locally available materials for the true Himalayan luxury experience. This symphony between the carefully crafted resort and its scenic, unfiltered habitat of the mountains and the Ganges makes Taj wellness retreat & spa Rishikesh a wonder to marvel at.
A newly built eco-friendly retreat spread across 12.5 acres of charm has early earned Conde Nast Traveler's best new wellness resort in the world award in 2020. Their thoughtfully built Jiva Spa surrounded by nature offers various wellness packages for an immersive and holistic rejuvenation for overall wellbeing. The signature experiences include Samattva yoga treatment, Vishuddhi for purified skin, Shuddhi treatment using bhasma (holy ash) from the Ganges, along with spa indulgences Soundarya & Soma (couples' special). 
This wellness and yoga retreat is further enhanced by the various accommodation options it has to offer. From the presidential duplex villa that includes a private infinity pool, tasteful furnishings and provincial influence of the Himalayan Vernacular designs along with a rain shower to the premium villas, the Gangotri villa, luxury pool villa, and deluxe and superior rooms for guests to choose from and stay connected with the natural beauty of the terrain. Keeping in line with the provincial theme, the dining experiences at Taj Rishikesh are equally sublime serving Himalayan & locally influenced cuisines from the region with a spectacular view.
Average Cost Per Day: INR 30,000 or USD 412
Another wellness gem in the string of the Himalayas, lies Modi wellness and Yoga Retreat Rishikesh, with the philosophy of health, wellness and energy for an active lifestyle. Urging their guests to come with an open mind and willingness to experience new heights of wellbeing and imbibe the ideology of Advaita, Living beyond 100 & yoga. 
Modi Yoga Retreat Rishikesh has a wide variety of curative therapies from the ancient treasured secrets of Ayurveda, Yoga and Naturopathy to offer to its guests. These therapies are tailored for different individual issues and problem areas to eventually integrate into an active lifestyle. Their wellness packages include Somnipathy (sleep care), metabolic & lifestyle disorders management, yoga, immunity-boosting programs, Shodhan (ayurvedic detox), pain management for joints and neck, holistic wellness package, obesity management, Panchakarma, integrated diabetes management, and integrative gut healing.
To keep sleep at the centre Modi Yoga Retreat's Sleep Concierge, the accommodation at the resort is designed with earthy tones and simplicity with utmost comfort. Starting with the Modi Presidential Suite that includes a private terrace, an outdoor jacuzzi, and a butler service, the WOW Ganges view suite with a deck to look out on the beautiful Ganga river, the deluxe room with the river view as well and superior city view rooms. The dining experiences at this retreat are another integral part of the rejuvenation with chefs keeping Ayurveda at the core of the gastronomy at its restaurant. It also features a café by the pool, for a relaxing evening soaking in the dusk sky and the setting sun.
Average Cost Per Day: INR 16,000 or USD 220
4. Divine Resort & Spa
Fresh air -check, mesmerising views -check, Himalayan hospitality – check; those are just some of the top things Laxman Jhula Divine Resort & Spa have in abundance. Set at the Himalayan foothills with the melody of the holy Ganga river adding to the complete nature immersive experience at this tranquil getaway. Enveloped in Sal trees, the resort has a mystical feel about it and is known for rare species of birds, butterflies and exotic flowers that can be explored at the resort. 
The Divine Spa offers two wellness packages that can elevate the senses and leave one rejuvenated. Their 7 nights 8 days spa wellness program is aimed at holistic rejuvenation, purification, restoration, and skin revitalisation through the classic Ayurveda program, herbal poultices, and Shirodhara, facial and body therapies, deep tissue destressing massage, and reflexology along with other amenities. The 7 nights yoga package includes comprehensive yoga sessions throughout the stay. Both the packages include accommodation in the executive room with a Ganga view along with breakfast and dinner. The spa program includes lunch as well. Some other stay options include the presidential suite, family executive room, and family executive suite. 
The resort also features a signature multi-cuisine restaurant, Bhoj Mantra, boasting the beautiful views of the valley along with taste bud tingling food indulgences.
Average Cost Per Day: INR 15,200 or USD 209
Bringing together experts across Ayurveda, Yoga, meditation and naturopathy, Naturoville Ayurveda Centre aims to create tailored wellness experiences for each and every guest. Surrounded by the serenity of the Ganges and safely tucked into the valley of Rishikesh, light and fresh air are a given. 
To help their guests create a balance between their environment and the inner self, Naturoville offers various packages and programs to choose from. The programs include the unique signature Shakti ladies special treatment for youthfulness & igniting the inner goddess, detoxification, weight management, spine & neck care, diabetes management, arthritis management, Panchakarma, anti-ageing, psoriasis care, immunity builder, depression/ stress management, and geriatric care program for the elders.
Created for simplicity, the accommodation at the centre is designed in warmer tones for elevated comfort with two room choices. The superior deluxe club room with various amenities and the executive suite for a luxurious stay with tranquil and mesmerizing views of the Himalayan mountains. The retreat is adorned with its signature restaurant, Prana, offering a multicuisine menu flavoured with ayurvedic ingredients prepared by expert chefs to ensure a well-rounded wellness experience.
Average Cost Per Day: INR 11,500 or USD 158
6. Veda5 Ayurveda & Yoga Retreat Rishikesh
Winner of the Tripadvisor Travelers' Choice Best of the Best award in 2020 and 2021, Veda5 Ayurveda & Yoga Retreat is a great wellness retreat in Rishikesh. A paradise in itself where luxury meets tradition and wellness, the resort is home to various experiences that cohesively work for a wholesome rejuvenation. With a natural and healthy living design in mind that cushions with luxury, the design and architecture of the resort create an environment of peace. 
Among its various packages for an elevated stay are the Panchakarma program with a minimum stay of 11-nights, 5-nights yoga & Ayurveda package, their signature 5-day immunity booster program, minimum 3-night Ayurveda rejuvenation package, and the great escapes yoga package among others designed and instructed by some of the best yoga teachers and ayurvedic doctors. 
Veda5 Ayurveda & Yoga Retreat Rishikesh offers well fitted modern rooms for a comfortable stay in deluxe and superior accommodation. With its own organic farm used for the produce at the organic café serving pure vegetarian meals that are curated by the ayurvedic doctors to individual guest needs.
Average Cost Per Day: INR 10,000 or USD 138
7. The Sattva Retreat
Nestled in the mountain ranges and the babbling river flowing next to the resort beautifully wraps the Sattva Resort into a home away from home providing comfort and tranquillity at its best. Bringing together the ancient and contemporary heritage in a unique blend for a holistic rejuvenation away from the chaos of daily life. 
The Sattva Yoga Retreat sanctuary offers various wellness packages for mental and physical escape for one. Their packages include a 2-night 3-day wellness escape, Panchakarma packages ranging from 7 to 21 days, immunity boost & breathe package, and signature Sattva Rasayana cleanse program ranging from 7 to 21 days. The programs include various meal plans and yoga & meditation sessions. 
The accommodation options at The Sattva Yoga Retreat Rishikesh include cottages, deluxe rooms, and standard rooms all-inclusive of mesmerizing and majestic views of the valley and the river. Rasa Café at the resort offers multi-cuisine organic food in the true farm to table approach. For a complete rejuvenation and detox, Sattva offers two dining programs – revitalize and detox.
Average Cost Per Day: INR 9000 or USD 125
Your endless peril and insane hours have definitely earned you time off to pamper and rejuvenate your mind, body and soul. What better place than Rishikesh to pamper your soul and take a much needed time off to reset your body clock. Choose any of the above centres according to your budget and goals. Here is a quick recap
Top 7 Luxury Wellness and Yoga Retreats in Rishikesh
Ananda In The Himalayas Retreat Rishikesh
Taj Resort & Spa Rishikesh
Modi Yoga Retreat Rishikesh
Divine Resort & Spa Rishikesh

Naturoville Ayurveda Center & Retreat Rishikesh

Veda5 Ayurveda & Yoga Retreat Rishikesh

The Sattva Retreat Rishikesh