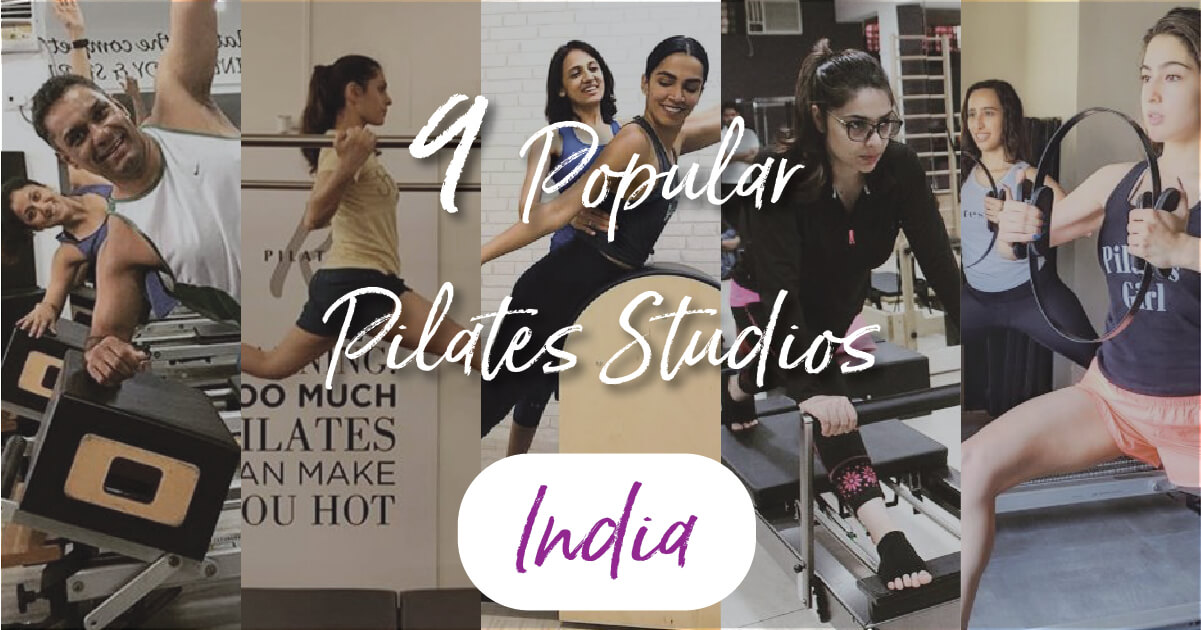 How do Alia Bhatt, Deepika Padukone, Kareena Kapoor, Katrina Kaif, Konkona Sen Sharma and Queenie Dhody maintain their toned stomach and strengthen core muscles? Drool through their Instagram profiles you will come across Pilates Posts & Stories and this is their fitness mantra. 
Now you surely would like to work with the same Pilates Guru and go to the same studio after all that not only raises your fitness game but also might get you close to the celeb you idolize, So here is a list of some of the best Pilates Studios in Mumbai, Delhi and Bengaluru. These 9 most popular Pilates Studios in India have been sorted according to popularity taking into account the quality & quantity of reviews, web traffic and social media.
1. Body Image Pilates Studio
Body Image Pilates Studio also known as Yasmin's Pilates Studio is located in Bandra West, Mumbai. This was the first Pilates studio in Mumbai founded by Yasmin Karachiwala the famous celebrity fitness trainer to the stars of Bollywood. Body Image Pilates Studio trains people from all walks of life, with Yasmin and her group of certified trainers help people set realistic goals. Yasmin and her team are the people behind Katrina Kaif's figure in Tees Maar Khan Movie and Deepika Padukone's gorgeous body in Ram Leela, she knows how to work with every body type to transform it to its fittest form.
Yasmin Karachiwala has been part of the fitness industry for more than 22 years. She is also the first BASI certified Pilates instructor in India. She has received multiple awards like the 'Best Fitness Instructor' at Vogue Fashion Awards 2013, Elle Beauty Awards 2015 for Best Fitness Expert, Giants Awards 2015, Rotary Award 2015 for contribution to fitness & wellness, World Women Leadership Award 2016 for excellence in Health, Wellness and Fitness.
This Studio offers Personal Training, Reformer Or Stott Pilates, Mat Pilates, Combine Training, TRX Training, Strength Training  and Cross Training. At Body Image, customized food plans (not diets) are designed for each client based on their needs, requirements and lifestyles. Along with Body Image Pilates Studio Yasmin also manages franchisees at South Mumbai, Andheri (Western Mumbai), Dubai, Dhaka and Delhi.
Location: Bandra West, Mumbai
Link To: Body Image Pilates Studio
2. The Pilates And Altitude Pilates Studio
With 14 pilates studios all over India, The Pilates And Altitude Training Studio in Santacruz West, Mumbai is of the best Pilates Studio as they have the most well-known instructors in the country Samir Purohit and his daughter Namrata Purohit founded this centre in 2011. This is the first studio in the world to offer Pilates and a simulated altitude training room under one roof. 
Catering to clients from all fields, the studio is popular amongst Bollywood celebrities including Jacqueline Fernandez, Neha Dhupia, Kangana Ranaut, Sara Ali Khan, Kareena Kapoor, Varun Dhavan and more. The studio is also well known between the sports personalities, businessmen and most importantly fitness enthusiasts. 
Namrata Purohit is the youngest certified Stott Pilates instructor in the world. Namrata was the official fitness partner to Femina Miss India Organization (since 2011) and official Fitness Partner to Miss Diva (2013 and 2014). Purohit, along with her father, were official Pilates coaches to the 2014 Mumbai City FC team. 
The Pilates And Altitude Pilates Studio Mumbai offers Reformer Pilates training, EMS Training, FLOWIN Training and CORE STIX Training, Prenatal and Postnatal Pilates. The studio also trains people with injuries like slip disc. This studio has all customized workouts one can opt for either a group or private class. The Studio provides Pilates training on the Reformer chair as well as the Cadillac.
Location: Santacruz, Mumbai
Link To: The Pilates And Altitude Pilates Studio
3. Redmat Pilates Studio
Redmat Pilates has its main studio in Nirvana Courtyard, Gurugram along with one other studios in Golf Course Road Gurugram. It was started in 2012 by Taru Chaddha, a passionate student & exponent of Pilates. Red Mat Pilates is an all-woman fitness group where women of all ages are welcome. They have had a lot of success with helping post-injury rehabilitation and improving core and battling things like knee, back or neck pain. 
Taru Chaddha is the founder and fitness trainer of the studio she is a certified Pilates Instructor from the STOTT School in Canada, and a level 2 in Neurokinetic therapy - a practice that looks into injury recovery through correcting muscle dysfunctions. Taru is passionate about delivering a Pilates & Barre experience in its most pristine form to women & couples across age groups and fitness types.
Redmat Pilates offers two Internationally recognised Pilates Teacher Training The Functional Anatomy Level 1 Program and Intensive Reformer. The studio also offers Private & Semi private pilates sessions of Mat & Machine Pilates. The sessions at the studio are organized in small groups ranging from 4-12 women with personal attention being the focus. While the studio and its offerings are largely women centric, it now offers semi private sessions to couples on request. RedMat Instructors are internationally trained and especially certified to handle injury & special cases. 
Location: Nirvana Courtyard, Gurugram
Link To: Redmat Pilates Studio
4. The Zone Mind and Body Pilates Studio
The Zone Mind and Body Pilates Studio is located in Koramangala, Bangalore. This Pilates studio was founded by Anjali Sareen in 1992. The Zone Studio started as a group exercise studio with fitness-based classes in exercise, dance, martial arts to yoga; all available in one space. In the year 2000 The Zone introduced the first fully-equipped Pilates studio in India with Fitness and Rehab programs on specialized Pilates equipment.
Founder of Zone Pilates Anjali Sareen, has been in the fitness and movement field since 1990. Anjali was the first STOTT Pilates Instructor Trainer in India. Her knowledge and expertise come from studying and teaching varied fields and disciplines ranging from fitness, martial arts, pilates, rehabilitation, yoga, dance.
This Studio offers Pilates (equipment and mat), Functional Fitness Training, Pre and Post Natal Pilates, Rehabilitation and more. The Studio also offers Pilates teacher training, Pilates Courses and Pilates Workshops such as Pilates on the Mat, Reformer Pilates, Prenatal Mat, Prenatal Reformer, Tower and Reformer, Total Body Integration with Pilates & Functional Stabilisation and more.
Location: Koramangala, Bangalore
Link To: The Zone Mind and Body Pilates Studio
5. Fitness Fusion Pilates Studio
Fitness Fusion Pilates Studio located in Vasant Kunj, New Delhi was founded by Dr. Namita Agarwal, a passionate fitness expert in 2001. Fitness Fusion is a first fully equipped Pilates studio in New Delhi offering high quality one-on-one on mat and reformer pilates.
Namita Agarwal acquired her Pilates training by South African Pilates Master trainers Caroline Bosch & Dabie Mendes, Reformer & other Pilates equipment training from Claudel in Singapore. She has been awarded by Bharat Nirman for her contribution for spreading health & fitness awareness. Namita has been actively spreading fitness awareness for more than 27 years and is an expert Pilates trainer for more than a decade now.
Fitness Fusion Pilates Studio offers Mat Pilates, Reformer Pilates, Post Natal Pilates and Aura Pilates. This studio also offers Pilates For Kids, Pilates for senior citizens and Pilates for corporates.
Location: Vasant Kunj, New Delhi
Link To: Fitness Fusion Pilates Studio
6. Activ8 Pilates Studio
Activ8 Pilates Studio is one of the best Stott pilates studios in Juhu, Mumbai. This is a Pilates, Rehab and Altitude Training Studio for mountaineers, athletes, homemakers and working professionals. Activ8 Pilates Studio especially works on  inner strength, body transformation, stamina and posture improvement. Activ8 Studio trained mountaineers like Bhageshri Sawant, and also celebrities like Alia Bhatt, Farhan Akhtar, Goldie Behl, Mahesh Bhatt. Many cricketers have also been a part of their training like Robin Utapa, Abhishek Nayar, Nikhil Patil and Sujit Nayak. The studio also offers training to ultra marathon runners which run more than 80 kms a day.
Activ8 Studio offers pilates packages depending upon the objective and fitness levels. The training sessions of Pilates at Activ8 takes 45-50 minutes under constant guidance of their trainers. Altitude Training offered by Activ8 is done under the supervision of their trainers with Australian Qualification. Each altitude training session lasts for 40 minutes. The Studio offers Reformer Pilates, Stott Pilates, Combine Training, Group X Training, Cross Training and more. 
Location: Juhu, Mumbai
Link To: Activ8 Pilates Studio
7. Pilates For Wellbeing Pilates Studio
Pilates For Wellbeing Studio located in Indiranagar, Bangalore. Kavita Prakash, who was once a competitive athlete, founded this studio in 2015. Pilates for Wellbeing is India's first fully equipped Classical Pilates Studio, practicing and teaching the authentic methods devised by the founder of pilates Joseph H. Pilates. 
Kavita founder of this studio has graduated as a Certified Pilates Instructor from The Pilates Center, Colorado, USA. She is a third generation Instructor in the Classical Pilates lineage. Kavita has also completed the Heritage Training, taught by Cara Reeser, a second generation Pilates Instructor and lineage carrier of Kathy Grant's (First Generation Teacher) work.
Pilates for Wellbeing offers Private & Duet Lessons on Equipment and Group Mat Classes along with wellbeing workshops and special pilates programs. The studio provides Introductory Group Equipment Class, Intermediate Group Equipment Class and Intermediate Wunda Chair Group Class. The studio also offers Workshop on Introduction to Classical Pilates, Stretching with Alignment and more.
Location: Indiranagar, Bangalore
Link To: Pilates For Wellbeing Studio
8. Body Temple Pilates Studio
Body Temple Pilates Studio is located in South Extension II, New Delhi. This Pilates studio was founded by Deepika Saxena the chief instructor of the studio in 2008. This is the only studio in Delhi that has the maximum variety of Pilates, in terms of types, levels. The studio even offers a class for people above 50 years of age. Deepika Saxena, founder of Body Temple Pilates Studio is certified for Pilates, by Reebok and PIA (Pilates Institute of America) and offers a wide range of fitness regimes. She specializes in mat work and Pilates on the Ball.
The Studio mainly offers pilates for Lower backache, Strengthening of spine, Postnatal fitness
General fitness and specialized pilates programs for people suffering from joint problems like back ache or knee ache. Advance pilate, as well as Zumba classes are also being offered by Body Temple Pilates Studio in Delhi.
Location: South Extension II, New Delhi
Link To: Body Temple Pilates Studio
9. R Pilates Studio
R Pilates Studio is located in Prabhat Road, Pune. R pilates is the first, premium pilates studio in Pune founded by Rucha Mulay. The Studio has 4 knowledgeable highly certified pilates trainers. This studio offers pilates for everyone covering all age groups and all fields - doctors, footballers, models, athletes, artists, housewives, and mothers.
Rucha Mulay is a Pilates and Barre expert having gained experience from the London Pilates studio. For Rucha fitness is the cornerstone of her identity.
R Pilates Studio in Pune has mat as well as equipment Pilates classes which are divided into two categories group classes and private classes. The group sessions consist of not more than 4 people and are broken down into 4 sessions, 8 sessions and 12 sessions a month. The studio also offers private pilates classes 
Location: Prabhat Road, Pune
Link To: R Pilates Studio
So what are you waiting for, go get a trial class at one of these Pilates Studios and feel your core muscles come to life. 
The Pilates And Altitude Pilates Studio - Celebrities Trainer Pilates Studio
Redmat Pilates Studio - Women's Only Pilates Studio
Activ8 Pilates Studio - Altitude Training Pilates Studio
The Zone Mind and Body Pilates Studio - Fully Equipped Pilates Studio
Body Image Pilates Studio - Award Winning Trainer Pilates Studio
Fitness Fusion Pilates Studio - Best Stott Pilates Studio
Pilates For Wellbeing Studio - Classical Pilates Studio
Body Temple Pilates Studio - Maximum Variety Pilates Studio
R Pilates Studio - Every Age Group Pilates Studio