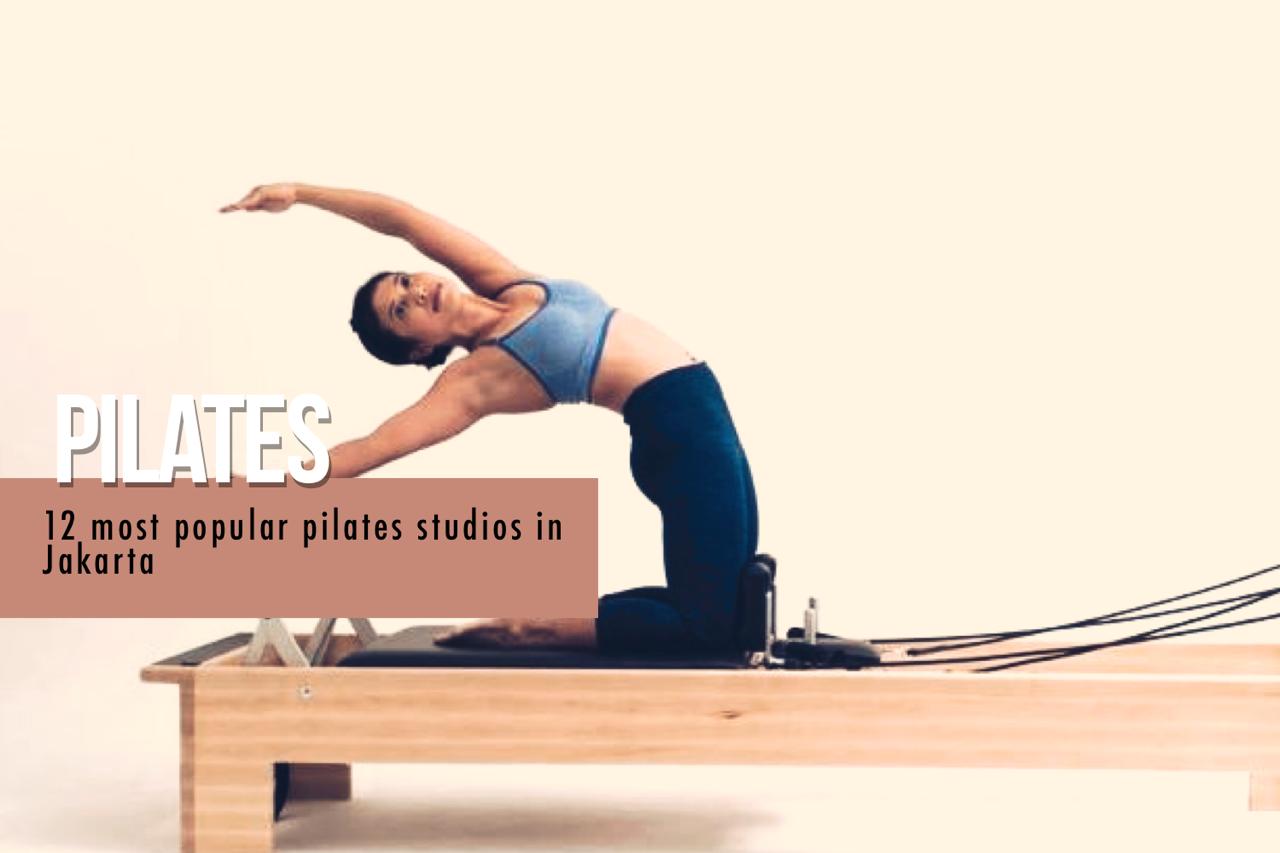 Enjoying a plate of chicken satay and juice Kedongdong as I watch the endless string of taillights from my panoramic balcony. Having lived in Singapore, Bangkok and Jakarta mostly due to work postings I can firmly say that although the traffic in Jakarta is grinding but the city has no storage of fitness options be it Gym's, Yoga or Pilates.
In my 20's I was a big fan of bodybuilding and swimming but as my feminine body gracefully grows older I tend to practise less risky and more core engaging and flexibility increasing exercise forms like Pilates and Yoga. You can call me a pilates addict and I did a lot of research about studios, trainers and equipment in Jakarta, sure every person is unique so is every trainer and every studio so somewhere on this list you will find the perfect place and trainer for you be it reformer, Scott or matt pilates you are looking for and if you are not sure of which then just grab a cup of tea and follow the list.
Founded in 2016 Aalaya Pilates is a boutique Pilates studio located in the Plaza Senayan Arcadia they offer a wide range of international standard BASI Pilates classes and training.
The studio was founded by Mira Hassan, a professional dancer, graduated with BA Dance from VCA, University of Melbourne. Mira has more than 10 years of international pilates teaching experience. She is APMA certified (Australia), Pilates International certified (Australia) and BASI certified (USA).
The Aalaya Pilates studio offers semi-private, duet and private pilates training classes.
Plaza Senayan Arcadia,
NO.9 JALAN NEW DHELHI, DAERAH KHUSUS IBUKOTA JAKARTA, 10270, INDONESIA
Link to profile: https://balancegurus.com/location/indonesia/jakarta/aalaya-pilates-studio-jakarta-indonesia
2. iSometric Studio Pilates, Jakarta Selatan
A fully equipped Scott Pilates Studio located on Jln. Prof. Dr. Soepomo No. 30, Jakarta Selatan.
The studio has skilled instructors and Physiotherapists who are there to assist you when required.
iSometric Studio Pilates offers private pilates sessions, duet pilates sessions, group pilates, pre and post natal pilates training sessions and pilates for kids.
Jln. Prof. Dr. Soepomo No. 30, 3rd Floor, Jakarta Selatan, Indonesia.
Link to profile: https://balancegurus.com/location/indonesia/jakarta/isometric-studio-pilates
3. Pop Pilates Studio, Jakarta
You can find Pop Pilates at 2 locations 1 studio in Puri Indah and another studio in the Bellagio Mall in Kuningan in the South side of Jakarta.
Pop Pilates is an upbeat studio that offers a blend of Pilates, Yoga and dance. The Pop stands for 'Perfecting Our Posture'. They offer Private pilates classes, Pre and post natal pilates training, corporate pilates training to companies in their offices, group tower classes, group reformer classes, group mat classes, yoga, zumba and pilates for kids. The people behind Pop make sure there's something for everyone that wants a strong core workout.
Puri Indah Studio
Jl. Puri Sentra Niaga Blk T1, No. 50
Puri Indah, Jakarta Barat 11610
Mega Kuningan Studio
Bellagio Mall, Level UG-IC08
Kawasan Mega Kuningan Barat Kav E4.3
Kuningan Timur, Jakarta Selatan 12950
Link to profile : https://balancegurus.com/location/indonesia/jakarta/pop-pilates-studio
Cardea Pilates has 2 fully equipped pilates studios, one in Gandaria and second in wolter. The instructors at this Pilates studio are internationally trained and certified.
Cardea provides mostly private classes in a peaceful environment, along with pilates they offer Physiotherapy, INDIBA® activ and Raindrops Therapy.
GANDARIA
Studio : Jl Gandaria 1 No 75 Jakarta Selatan. Ph 021 7222051 / 0812 1200 2207
WOLTER
Studio : One Wolter Place, 2nd floor Jl Wolter Monginsidi 63B Jakarta Selatan. Ph 0813 3775 1600
Link to profile : https://balancegurus.com/location/indonesia/jakarta/cardea-pilates-jakarta-indonesia
5. Pilateszperfect, Bellezza Shopping Arcade
Located in the Bellezza Shopping Arcade this is a private pilates studio run by Shinta who is a fully Certified Pilates Instructor from STOTT PILATES Canada and has been teaching pilates for 11 years. She has been trained by Kathleen Keller for 3 years.
Shinta has a career background in Architecture, Property, Marketing and Advertising so she has the right mindset to take on corporate clients and she has been teaching various type of clients: senior citizen (old people), post-injured people, post-surgery people, pre-natal (pregnant) ladies, kids, teenagers, industrious office workers, golf players, tennis players, basketball players, runners, ballerinas, dancers, housewives and more.
Bellezza Shopping Arcade ​Ground Floor
Unit GF-50 (near West Entrance) Jl. Letjen. Soepeno #34 (also known as Jl. Arteri Permata Hijau #34) Kebayoran Lama, Jakarta Selatan 12210 Indonesia
Link to profile : https://balancegurus.com/location/indonesia/jakarta/pilateszperfect
With exclusive training in the world-renowned Pilates institutions of Stott Pilates, Fletcher Pilates, Balanced Body and Polestar Pilates the instructor at Liv+ are well trained and knowledgeable to design customized pilates training programs based on what you need to accomplish be it weight reduction, core body strength enhancement or preparing for a competitive sport.
Liv+ pilates studio provides private, duet training sessions and pre and post natal pilates training.
Menteng Central 2nd Floor.
Jl. HOS Cokroaminoto no. 78, Menteng,  Jakarta Pusat
Link to profile : https://balancegurus.com/location/indonesia/jakarta/liv-pilates-jakarta-indonesia
7. Annabe Pilates Studio, Kemang
Founded in 2004, Annabe Pilates studio is located in Kemang in the south of Jakarta. The studio has been training people of all ages and different levels of fitness. The studio provides scott pilates, Gyrotonic, Pure stretch, Garuda Method, Anti Gravity fitness and Muaythai.
Annabe pilates studio provides group classes, private lessons and duet private pilates lessons.
Kemang Square, Kafe Tamani , 2nd Floor Jalan Kemang Raya No. 5. Jakarta
Link to profile : https://balancegurus.com/location/indonesia/jakarta/annabe-pilates-studio
Located in the chic neighborhood of Kemang is Pilates Kemang, a clean and cozy Pilates studio well lit with natural sunlight.
The pilates studio is well equipped with Scott Pilates equipment, red cords, plenty of resistance bands and weights. The staff and trainers at Pilates Kemang are well trained and the studio offers private, semi-private pilates training and also provides pre and post natal pregnancy pilates training. The trainers at Pilates Kemang are sure to give you a safe, effective and a fun filled workout.
Pilates Kemang Location: The Colony 5th Floor Jl. Kemang Raya no 6 Jakarta 12730, Indonesia
Phone : 021-2952 9949 Mobile : 0812-9489 8800
Link to profile : https://balancegurus.com/location/indonesia/jakarta/pilates-kemang-jakarta
Located in the southern suburbs of Jakarta is the only Stott Pilates Licensed Training center in Indonesia. The studio provides a homely feel with bright natural lighting.
Vitruvian Pilates studio has the reputation of having taught quite a few pilates teachers in the city and besides Pilates they also offer Gyrotonics, Red cord Active and Fascia exercises which are taught by highly skilled instructors. Vitruvian pilates also offers Physiotherapy as well as wellness and aesthetic treatments to its clients, the pilates studio has a host of offering for more visit their profile.
Jl. Sekolah Duta Raya no 27
Pondok Indah, South Jakarta 12310
Link to profile : https://balancegurus.com/location/indonesia/jakarta/vitruvian-pilates-and-physiotherapy-center
Bodyworks Pilates was founded back in 2003 and they now have 2 locations both of which are in the south side of Jakarta - Dharmawangsa City Walk and the Tirtahayu Healing Center on Senopati. The trainers at Bodyworks are internationally trained and certified and can surely create a customized training plan based on your requirements and athletic needs. The pilates studio offers group classes both reformer and studio equipment-based, they also offer appointment-based private and semi-private pilates training.
Dharmawangsa City Walk Unit 48, 2nd Floor
South Jakarta Selatan 12160 Phone: 021-72801386
Tirtayu Healing Centre 1st Floor Jl.Senopati 20
Link to profile : https://balancegurus.com/location/indonesia/jakarta/bodyworks-the-pilates-studio
A well-equipped reformer pilates studio in the north of Jakarta close to the Mall of Indonesia.
The studio provides a comfortable and relaxing atmosphere to help you release stress and restore a mind-body harmony with a wide variety of Pilates and Yoga classes that you can choose from, suitable for all levels, from beginner to advanced.
Altira Business Park Blok B No.5
Jl.Yos Sudarso Kav.85, Sunter
Jakarta Utara 14350
Link to profile : https://balancegurus.com/location/indonesia/jakarta/life-studio-pilates-and-yoga-jakarta-indonesia
Pilates Capital is affiliated with Body Tree Academy, Singapore. They are currently offering virtual matt based Pilates teacher training. The website seems to be down (will update this later)
fX Sudirman f7#01. Jl. Jend. Sudirman, Pintu Satu Senayan. Jakarta 10270
Link to profile : https://balancegurus.com/location/indonesia/jakarta/pilates-capital-studio-jakarta-indonesia
I hope by now you have figured out the pilates studios you would like to visit 1 pro tip choose the one close to your home or office or on the way if you drive by car, as there will come days when you would not like to travel out of your way in the infamous traffic of Jakarta for your Pilates workout.