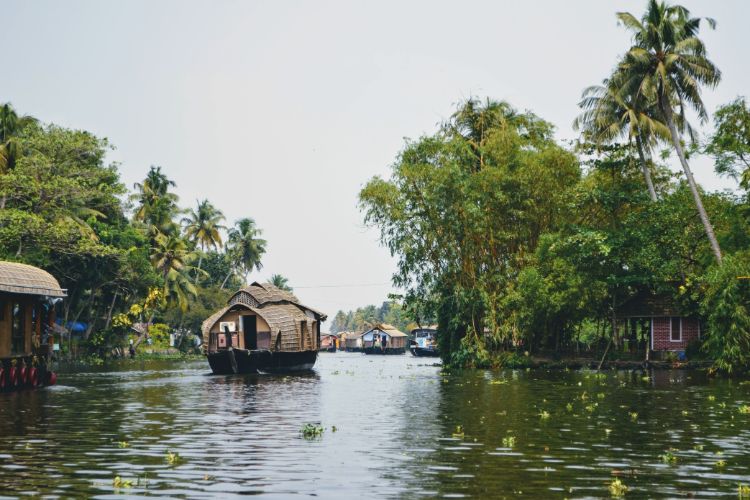 One of the most sought-after tropical destinations, by domestic and international travellers alike, is Kerala, God's Own Country, the land of pure nature's beauty, picturesque landscapes across beaches and mountain ranges. With a deep love for nature, peace, exotic & healthy food, and memorable vacations, Kerala's warm hospitality and understanding of the science of Ayurveda & yoga can leave one refreshed beyond expectations. 
From exotic tea estates to ashram living, this Southern State of India has a bounty of yoga and Ayurveda retreats created keeping in mind the search for inner peace and balance one seeks in the daily rush of life. Let's dive into a list of the top 20 budget yoga retreats in Kerala for the rejuvenating holiday you've been looking for (sorted according to cost per day lowest-highest).
A non-profit organisation, founded with the sole purpose of furthering the teachings of yoga and Swami Sivananda, one of the most prolific gurus of the 20th century; by his disciple Swami Vishnudevananda in the 1950s in Trivandrum with centres and ashrams across the globe. They offer various programs to fit the needs of today's fast-paced life like a budget yoga retreat which is based on the Five Points of Yoga of Swami Vishnudevananda, which includes accommodation and vegetarian meals prepared with seasonal and locally sourced produce. Among its other programs are meditation, weight loss and rejuvenation, fasting and detoxification and Ayurveda courses. They also offer kids and teens camps to imbibe respect towards nature and discipline among younger minds for a responsible future.
7 Days Yoga & Meditation retreat Kerala (USD 82) offered by Sivananda Yoga Vedanta Dhanwantari Ashram Kerala includes
Accommodation & Tea, Brunch and Dinner

2 Daily Asana Classes

Satang and group meditation

Karma Yoga
Per day starting cost: INR 1000 or USD 14
A family-run yoga retreat near Alleppey, set on the beach providing a homestay experience to guests in zen retreat. All vacationers are welcomed with the warm hospitality by Jen, Jessy and their family at this boutique homestay. They offer two types of stays along with yoga and zen meditation included in the packages namely Sambodhini Homestay centre retreat packages and Sambodhi beach stay retreat packages. The packages include homemade and organic meals. One of their unique aspects is the Cafe Buddha Hut, which offers vegan, vegetarian and seafood options in cafe, indian, local village and healthy cuisine.
4 Day Yoga & Meditation retreat in Alappuzha Kerala (USD 115) offered by Sambodhi Yoga Retreat Kerala includes
Accommodation with amenities

Morning yoga with Zen Meditation 1.5 hours

Homemade, organic breakfast and lunch

Freshly cleaned yoga mats

Tea, coffee, juices, snacks, and pure drinking water

Enchanting excursion and cruising in backwaters of Punnamada & Vembanad lake and the Villages of Kuttanad (2 Hour Cruise on exclusive Motor/Shikara boat)
Per day starting cost: INR 2800 or USD 38
Another tranquil and serene property, established about 10 years ago, inspired from ancient Kerala architecture and walking distance from the picturesque beaches of Varkala, is an ideal location for a relaxing retreat. Set amidst nature with various tree plantations, and a rejuvenating garden the retreat believes in minimal distractions and wholesome wellness. The Yoga Retreat includes asanas, pranayama, vipassana meditation at the Abhyagiri monastery and takes upto 15 students in every batch for individual attention. All nutritious meals are prepared from the produce of the organic garden by trained and experienced staff as per ayurvedic requirements.
4 Day Yoga & Meditation Retreat in Varkala Kerala (USD 160) offered by Sharanagati Yogahaus retreat Kerala includes
Accommodation

2 times yoga, morning pranayama and meditation

Morning tea with breakfast, one Kerala-style lunch home cooking

Free drinking water refill
Per day starting cost: INR 3900 or USD 54
Based in Trivandrum, Kerala near the pristine Kovalam Beach and founded by Yogi guru Raviji; this yoga training centre offers an immersive experience for those seeking inner peace and tranquillity. Hospitable staff, comfortable stays, along with satvic and organic foods prepared from their organic garden to create a holistic balance of the senses; this retreat also offers various ayurvedic treatments. With multiple teacher training courses starting from 100 hours to 300 hours, Hatha Yoga, Ashtanga yoga and more. Ranging from 14 days to 28 days, they also offer Ayurveda courses such as awareness and lifestyle, massages, and therapies.
7 Day Yoga Retreat in Kerala (USD 425) offered by Sivasoorya Yoga Retreat Trivandrum Kerala includes
Satvik diet plan

(Breakfast, Lunch, Herbal tea and Dinner)

Daily Yoga & Meditation sessions

Detoxification & Rejuvenation activities

Complimentary in-house recreational activities – heritage places, world-famous temples and local sightseeing
Per day starting cost: INR 5192 or USD 71
Ideal for those looking for luxury blended with sustainability, ecological ideals and rejuvenation entwined with the gifts of nature in abundance, Kaivalyam retreat, founded 10 years ago, provides elevated homely stays along with wellness programs and healthy eating. With beautiful sunsets, magical sounds of birds and insects to wake up to, while finding inner peace – this retreat delivers tranquillity. Located on the mountain hills of Munnar, known for its coffee and tea gardens, this hill station has become one of the sought-after tourist destinations for its serenity and natural beauty. With various offerings across yoga, meditation and Ayurveda; some of the programs include beginners' yoga, Sivananda 12 asanas mastery, Kriya Yoga sadhana, Mool Bandha sadhana, vipassana meditation, rejuvenation program, panchakarma detox, weight management, de-stress and anxiety programs.
7 Day Beginners Yoga Retreat in Kerala (USD 492) offered by Kaivalyam Wellness Retreat Kerala includes
Satvik diet plan

(Breakfast, Lunch, Herbal tea and Dinner)

Early morning Agnihotra (Homa) session

Daily Morning and Afternoon Yoga session

1.5 Hrs each

Karma yoga sessions at the farm

Meditation session every evening

Complementary in-house recreational activities – agnihotra, bird watching, spice and tea garden walks/hikes, tea tasting and cooking session
Per day starting cost: INR 6000 or USD 82
Located in and away from the hustle and bustle of Kochi, Yoga Maithri Lali truly believes in the yogic lifestyle for health and wellbeing. Their programs include 4-day yoga meditation, naturopathy, 7-day or 30-day intense detox, 28-day yoga mentor course, 4-night 5-day nada mantra yoga, 7-day or 30-day Kalari and yoga program and they are all available all year round. Accommodation, nutritious and vegetarian meals and Ayurveda massages are included within the programs. 
4 Days Yoga Meditation & Naturopathy retreat Kochi Kerala (USD 250) offered by Yoga Maithri Lali retreat Kerala includes
Accommodation, veg. meals, Herbal drinks

Daily morning & evening Yoga, meditation sessions

Two Ayurveda detox massage with steam bath

One Kerala kathakali live performance

Shopping  & Heritage tour -  Can use all kinds of debits & credit cards

Cookery – Recipes & workshop with Linda

Free AirPort Pickup upon arrival
Per day starting cost: INR 6125  or USD 84
Founded and created by Jomy, after a long search to find the perfect space for patrons to come and feel 'out-of-this-world' during their stay along the river banks of Kuttampuzhayar, located in the Thattekadu Salim Ali bird sanctuary. With the aesthetics of an art gallery, the design of the retreat was created by a team of artists using organic and natural mediums inspired from its own environment to bring alive the aspects of yoga and Ayurveda. Along with yoga programs and sessions, they offer Ayurveda treatments like Shirodhara, Marma Abhyanga, Shirobhyanga, Pinda Sweda, and Padabyangha. The retreat offers various levels of accommodation including a treehouse imbibed with its ecological ideals for a comfortable and serene stay. Among the many things one can do at this retreat, given its location, bird watching in the sanctuary and wildlife safaris are a highlight for travellers.
3 Day Rejuvenating Ayurveda and Yoga Retreat in India (USD 181) offered by Munkudil Ayurveda Yoga Retreat includes
3 daily delicious and nutritious meals & accommodation

Daily Yoga and Meditation Classes

Water, tea, coffee served throughout the day
Per day starting cost: INR 6640 or USD 91
Adishakti Yogashala is a passion project of 3 yogis, founded in 2010 at Varkala, with over 10 years of experience in the field and the objective to spread the knowledge of yoga and the ayurveda lifestyle. Their offerings are a combination and blend of traditional yoga and ayurveda. Adorned by tropical trees with a spectacular cliff beach, this retreat is a treat for the senses. The Ayur Yoga Retreat at Varkala, has a charming homestay approach to restore and rejuvenate the guests and patrons. Some of the inclusions of the program are Hatha Yoga, Ashtanga Yoga, Yoga Nidra, Bandhas, Bhakti Yoga, Iyengar Yoga, Chair yoga, meditation, along with yogic anatomy, art of adjustment and alignment and yogic cooking. Comfortable and simple accommodation and healthy meals are included in the package. They also offer teacher training in yoga and two offsite retreats namely Yoga Ayurveda Retreat in Nepal and Yoga- Horseback riding retreat in Iceland.
9 Day Ayur Yoga retreat in Varkala Kerala (USD 800) offered by Adishakti Yogashala Varkala Kerala includes
Accommodation with amenities

Yoga Asana and Pranayama classes

Breakfast & Lunch

Yoga Nidra/Meditation/Bhakti Yoga classes

Weekend - Karma Yoga/Country Side Visit/Ashram Visit
Per day starting cost: INR 7314 or USD 100
Set amidst the tea gardens and blissful nature around, this retreat brings true oneness within the body, mind and soul with comfortable accommodation. Inspired from its surroundings to create serenity and peace, guests are immersed in a world of its own in this Wayanad based property with the chirping of birds and exotic flora and fauna to be one with nature. Founded by Sree Yogini Romea, after a life-altering accident that led her on the path of yoga and Ayurveda to find herself, past patrons have often found hope and guidance in her teachings and counselling. This retreat offers various programs ranging from 4 days to 29 days like juice detox, seniors' serenity, silence retreat, obesity, and their signature women's spirituality program.
15 Day Women's Blissful Raj Yoga Retreat in Kerala, India (USD 1415) offered by Rome's Wellness Wayanad Kerala includes
Accommodation & Daily Satvik Meals

Daily Yoga & Meditation Classes

Daily Satsang

Personal Spiritual Counselling
Per day starting cost: INR 7400 or USD 101
Established in 2010, with a one-of-its-kind gurukul system of teaching founded by Yogacharya K.P Mohandas, Santhi Yoga has an ashram influenced living space. Their philosophy towards yoga is to impart the learnings of yoga at various levels to help as many people bring about inner balance and well being. Along with various yoga teacher training courses, they also offer yoga for improving immunity, general yoga, vacation yoga, special yoga, and 3-day to 10-day yoga retreats. The packages include luxury and comfortable residences and nutritious meals.
3 Day Yoga retreat (USD 206) offered by Santhi Yoga International Retreat Kerala includes
Nutritious Food & Accommodation

Pranayama, Yogasana & Meditation classes

Ayurveda Massage

Complementary in-house recreational activities - Experience Life in a Botanical Garden, Sightseeing Trips, Ayurveda Massage, HillTop Meditation, Nature Walks, Visit to Holy Shrines and lots more
Per day starting cost: INR 7534 or USD 103