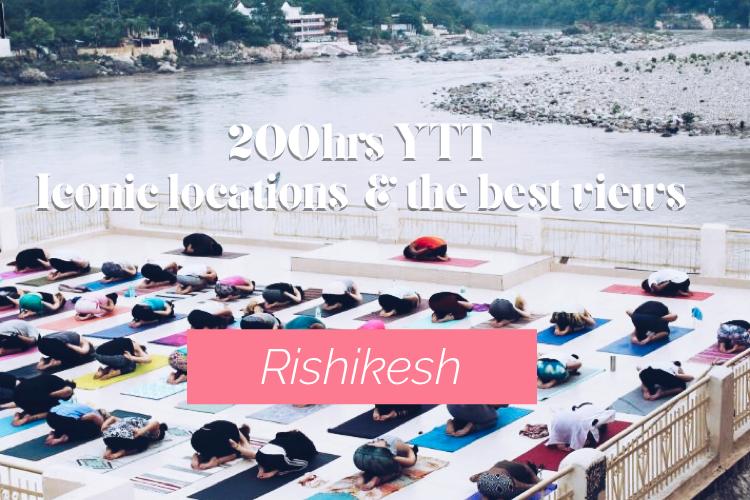 Congrats on making the decision to become a yoga teacher. We know the journey is long and the beginning can be very challenging as it has many unknowns but, the fact that you are going to positively impact countless lives and morph your own lifestyle to be more healthy, spiritual and open minded are big enough rewards and we are sure you would agree. 
A 200hrs yoga teacher training from a certified centre surely is a right step forward, every centre and every teacher is different and this diversity is what attracts different students to different teachers, environments, countries and cities. If you are looking for some of the best environments, iconic locations and panoramic views in the holy city of Rishikesh to do your Yoga Alliance Certified 200hrs Yoga Teacher Training then the list below will help you get started.
1- Parmarth Niketan Ashram Yoga Teacher Training Ram Jhula, Rishikesh
70 years old, the largest ashram on the banks of river Ganga in Rishikesh, with more than 200 rooms, beautiful gardens and spiritual simplicity is Parmarth Niketan Ashram. This Ashram also hosts the world famous Ganga Arti at sunset right at the banks of the river and The International Yoga Festival. The Ashram hosts thousands of yogis and pilgrims every year from various parts of the world who are welcome without any discrimination as long as they follow the ashram guidelines.
Swami Shukdevanand Trust, a non-profit organization founded in 1942 operates the Parmarth Niketan Ashram which is one of the oldest spiritual institutions in India. They conduct yoga retreats, 200 hrs yoga teacher training course certified by Yoga Alliance, longer duration yoga teacher training courses, kriya meditation courses and much more.
 Here is what Steven Priovolos had to say about Parmarth Niketan Ashram Rishikesh
 Full of wonderful people, loving energy and natural beauty. 

This place and its people filled my heart with so much joy, peace, happiness and love. 

Their hospitality? So generous. The food? Super yummy! The Yoga classes? Divine! The conversations? Full of kindness and wisdom! 

A part of me wants to leave everything behind and live here forever!! 

If you are looking to connect with your inner wisdom and peace look no further! (source google reviews)
To get more information on courses offered by Parmarth Niketan Ashram visit their BalanceGuru Centre Profile.
Location: Ram Jhula, Rishikesh
2- Maharishi Yog Peeth Yoga Teacher Training Laxman Jhula, Rishikesh
Panoramic views of the holy river Ganga, open roof top for early morning yoga and access to the river bank make Maharishi Yoga Peeth one of the most Iconic places to practice yoga in Rishikesh. The centre is Yoga Alliance USA and UK certified centre, it is managed by yoga teachers having more than a decade of experience, the founder has also won multiple awards in the yoga field.
200 hrs yoga teacher training is the most popular course at Maharishi Yoga Peeth though they also offer 50 hrs, 100 hrs, 300 hrs and 500 hrs yoga teacher training courses. They firmly believe Guru-Shisya (teacher-taught) a tradition that has evolved in India over centuries. Maharshi Yoga provides authentic and traditional yoga teacher training focusing on yogic lifestyle, correct posture and alignment. 
Here is what Jam Theater a student of 200hrs Yoga Teacher Training has to say about Maharishi Yoga Peeth 
I highly recommend Maharishi Yogapeeth school and personally Yogi Jagjeet for those who've decided to take a yoga training. You will find there completely different from other program and tons of very useful information. The pleasant atmosphere and wise and friendly teacher will make you completely relax and forget about the outside world 
To get more information and to read what other students have to say about Maharishi Yoga Peeth visit their BalanceGuru Centre Profile
Location: Laxman Jhula, Rishikesh
3- Rishikesh Yogpeeth Yoga Teacher Training Neelkanth Temple Road, Rishikesh
A beautiful and unique campus located amidst nature untouched by lights and sounds of the city make the Abhayaranya Campus of Rishikesh Yogpeeth iconic. It takes a good 25-30 min hike to reach and there are no shops and markets nearby, the centre believes this is good for yoga students as it replicates the path of yoga which is difficult in the beginning but very rewarding once it has been mastered.
Rishikesh Yogpeeth was founded by a group of native yogi's in 2005 with a vision to share the holistic living principle of yoga and the eternal wisdom, to have a modern scientific approach to yoga and to promote a sustainable lifestyle. They are a Yoga Alliance certified school offering 200 hrs, 300 hrs and 500 hrs yoga teacher training courses in Rishikesh.
Here is what McKenzie Genin has to say about the Abhayaranya Campus and Rishikesh Yogpeeth 
A group of 8 yoga students stayed at Abhayaranya for 10 days this spring. The love and potential for growth that resides at Abhayaranya is truly magical. Roshan, Rajesh, Dilip, Nikhil, Deepti, Himanshu, the entire kitchen crew, and the rest of the staff exemplify love through their service at the yoga center. Abhayaranya is certainly a place for self discovery through the earnest practice of yoga. The ripple effect of Abhayaranya and Rishikesh yog peeth reaches far and wide spreading well being and love to all. Our group experienced transformation on the individual level and left feeling more connected to our true nature. The food at Abhayaranya is delicious and good for the body! The kitchen crew is the heart beat of Abhayaranya. The environment and people allow a space conducive to finding more understanding of oneself. The flowers were absolutely beautiful all over the center too! The management were extremely flexible in accommodating us and our changing schedule. We look forward to returning after integrating what we have learned at home for a while. (source google reviews) 
To get more information about Rishikesh Yogpeeth visit their BalanceGuru Centre Profile.
Location: Neelkanth Temple Road, Rishikesh


4- World Peace Yoga Teacher Training Laxman Jhula, Rishikesh
A large campus, spacious yoga halls, well pointed rooms, big gardens and a wide open view of the river ganga makes World Peace Yoga School in Tapovan an iconic place to practice yoga in Rishikesh.
The yoga school teaches the ancient form of yoga and yogic life with contemporary and modern twist. The founder of World Peace Yoga School Yogi Vishnu created this school as a loving community for those that seek spiritual knowledge, methods for uncovering a deeper truth and a profound connection with oneself.
World Peace Yoga School is a Yoga Alliance USA and Yoga Alliance International certified Yoga Teacher Training Centre. They offer 100hrs, 200hrs, 300 hrs, 500 hrs Yoga Teacher Training and also host Yoga Retreats in Rishikesh.
Here is what Bethany Joy Huguenard a student of the 200 hrs Yoga Teacher Training had to say about World Peace Yoga School (WPYS)
Today, myself and 16 other beautiful souls and kindred spirits received our 200-hour TTC certificates. Journeying here to India, to Rishikesh has been the trip of my lifetime. I feel so welcome at World Peace Yoga School. I feel so loved. This is a very special place. The world-class instructors blew my mind daily with their unique and powerful knowledge. Though at times very advanced concepts were being described, I always felt the information was passed along in a comprehensive and dedicated manner. I have learnt more than I could have possibly expected!
The activities have been riveting and interesting. The food is absolutely delicious; it is prepared thrice daily with love always as the secret ingredient ;). The staff here is so attentive and kind~ quick to give attention and pass along whatever goods you need!
I am so happy to have spent a month here. I would do it again in a heartbeat! (Of course I recommend WPYS) (source facebook reviews)
To get more information and to read what other students have to say about World Peace Yoga visit their BalanceGuru Centre Profile.
Location: Laxman Jhula, Rishikesh
5- Nada Yoga Teacher Training Centre Ram Jhula, Rishikesh
Set in its prime location directly overlooking and alongside the holy Ganga river is Nada Yoga School. Nada Yoga School is host to the International Yoga and Music Festival in the month of November which is open to all. This yoga teacher training school offers classical hatha yoga teaching with the ancient musical Nada Yoga. 
Nada yoga school was founded in 1950 by one of the famous indian masters Swami D.R. Parvatikar Maharaj (also known as Nada Yogi Veena Baba).