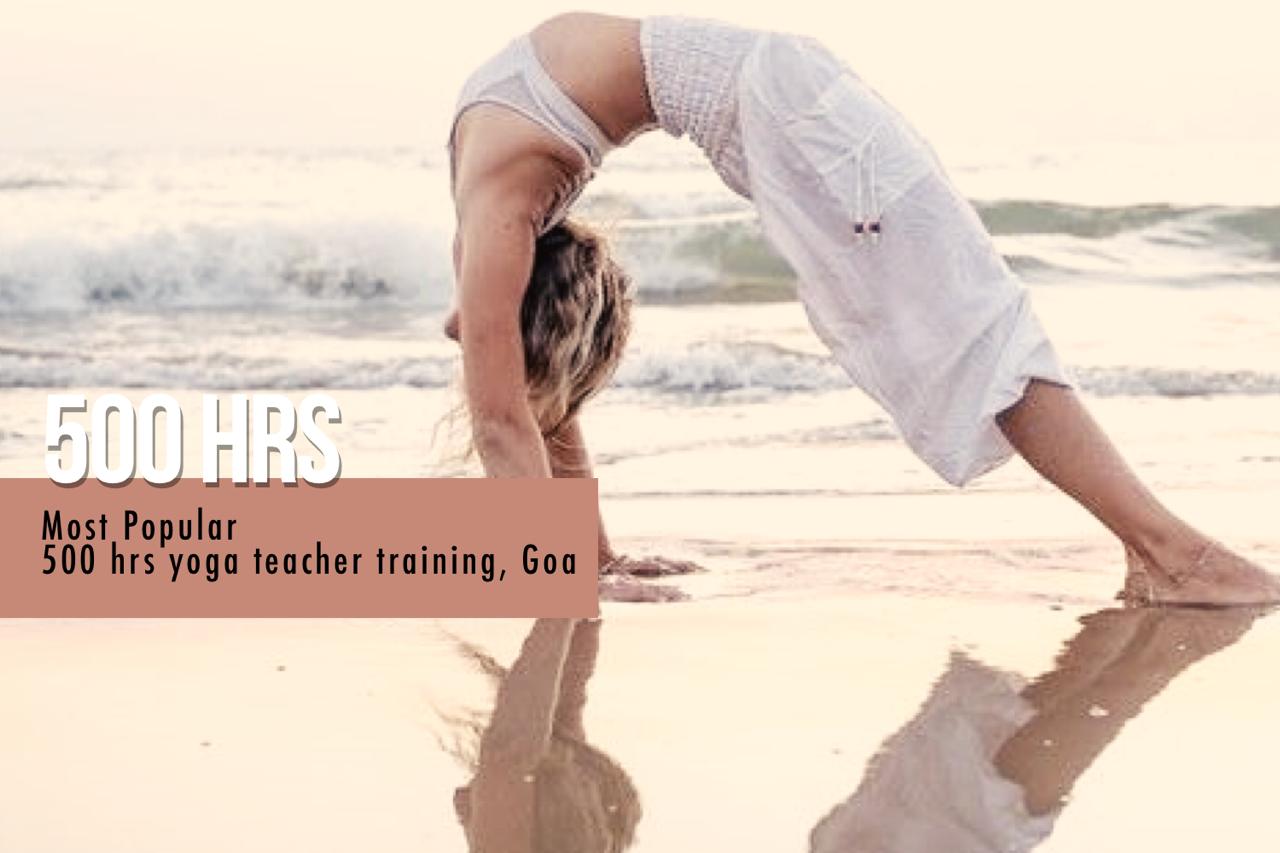 Congrats you have finally made the commitment to do a 2 month intensive 500 hrs Yoga Teacher Training course. This course will test your emotional, mental and physical limit as it is the most advanced Yoga Alliance certified yoga teacher training course available. The good news is once you have successfully completed this course you will be able to provide continuing education workshops to other teachers and can be a Lead Trainer of a 200-hour, 300-hour or 500-hour teacher training now that has a wonderful ring to it. 
Goa is a wonderful place to get your Teacher Training Certificate (TTC), it has the most beautiful coastline in India, markets are filled with fresh fruits, a lot of vegan cafes and it is one of the most tolerant city/state in India. There are not many 500 hrs TTC options in Goa but we have got some insider information for you and the list below will definitely help you pick the centre and Teacher that is best for you, so make a cup of ginger lemon honey and read on.
1- 500 hrs Yoga Teacher Training at Shree Hari Yoga
Located just 150 meters from the Mandrem Beach is the most colorful yoga school Shree Hari Yoga a Yoga Alliance Certified 500 Hrs Yoga Teacher Training Centre. Yoga School was founded by Hariji Pawali who started on his Yogic path at the age of 16. They are one of few centres that allow your friends and family to visit you while you are doing a long duration course (they can also live with you). The centre has its own rooftop which is open to all students.
Hari is the founder and lead yoga teacher, his mother Tara Devi is a devotee of Lord Shiva and a Bhakti Guru she taught and mentored him about the spiritual life at a very young age. Yogi Hari follows the teaching & style of Nath Lineage tradition. This style has been passed from since 9th Century by  Gokarnath and Patanjali Maharishi.
The 500 hrs Yoga teacher training (TTC) program is best for those that already have at least 1 year of regular yoga practice and would like to become a full time yoga teacher.
Here is what Alberto Quadrelli had to say about Shree Hari Yoga
I just did my 300 hours TTC at Shree Hari School in Kudle Beach and I can easily say it has been a life changing experience,as well as a big game changer to my personal yoga practice.
The location is amazing, just 100 meters away from the beautiful beach and all its amazing energies.
The teachers are all highly qualified with great knowledge about asanas, philosophy,Ayurveda and anatomy. They are people who dedicated their lives to the practice and discipline of yoga and their passion is so contagious and inspiring!
Everybody love to serve in the institute, from the teachers to the wait staff and the cooks (who have been accommodating us with three delicious and abundant meals a day!).
It is more than just a school to get a yoga alliance certificate: it is a community to be part of, a yoga legacy of people passionate about making a positive impact and I am very happy to be part of it now! (source facebook reviews)
Shree Hari Yoga Offers the following Courses
50 Hrs Yoga Teacher Training

100 hrs Yoga Teacher training

200 hrs certified Yoga Teacher Training

300 hrs certified Yoga Teacher Training

500 hrs certified Yoga Teacher Training

Drop in yoga classes

100 hrs Online Yoga Teacher Training

200 hrs Online Yoga Teacher Training
2- 500 hrs Yoga Teacher Training @ Kranti Yoga
Kranti Yoga Teacher Training Centre is located in Patnem, South Goa, has been Training yoga teachers for more than 12 years and more than 7100 yoga teacher have successfully graduated from this centre. 
The centre is located right on the Patnem beach, students get to practice yoga overlooking the beach and the vast Arabian Sea, they can enjoy the amazing view of the sunrise and sunset and stroll the beach during the full moon nights. In fact students love to take a lunchtime beach nap and a quick dip in the sea between classes in order to relax, cool off and energize.
Kranti Yoga was founded by Tarun Kranti Agrawal, who began his spiritual journey when he was 9 years of age. It is with Swami Vidhyanand Saraswati at Sivananda Kutir Yoga Ashram where he practiced and acquired the knowledge of several different styles of yoga: Ashtanga, Vinyasa Flow, Sivananda, Kundalini and Raja. Dr. Manoj Sharma taught him Ayurveda. Tarun Kranti has been teaching yoga since he was 14 years old. In 1999 he became a member of  The Divine Life Society Sivananda Ashram in Rishikesh where he came in contact with many spiritual masters who greatly influenced this thinking and lifestyle. Tarun also had the opportunity to teach Ashtanga Vinyasa Yoga at OSHO International Ashram in Pune. 
The 500 hrs Yoga Teacher Training is a long duration course which take 8 weeks to complete. It is best for those that already have a regular yoga practice and are aware of Ashtanga Yoga and Vinyasa Flow. You should be physically, mentally and emotionally ready for this program.
Here is what Amy T has to say about Kranti Yoga
The kranti setting is just perfect. So many places in the common to chill on comfy cushions in time off from the yoga course and being so close to the beautiful Patnem beach is a massive bonus. Watching the sunset each and every night was such a treat and something I'll miss very much when I'm back home :)
I did the 200 hour YTT course and I was so impressed with the standard of teaching and the structure course. I really feel like I have a much better understanding of the fundamentals to teach yoga and it's improved my self practice massively.
I would highly recommend Kranti to anyone looking for 3 weeks of escapism and self love. It was such a comfortable place to meet new people and I'm leaving feeling rejuvenated and uplifted. Thank yoooooooou (source tripadvisor reviews)
Kranti Yoga Offers the following Courses
200 hrs certified yoga teacher training
300 hrs certified yoga teacher training
500 hrs certified yoga teacher training
Drop in yoga classes
3- 500 hrs Yoga Teacher Training @ Universal Yoga Center