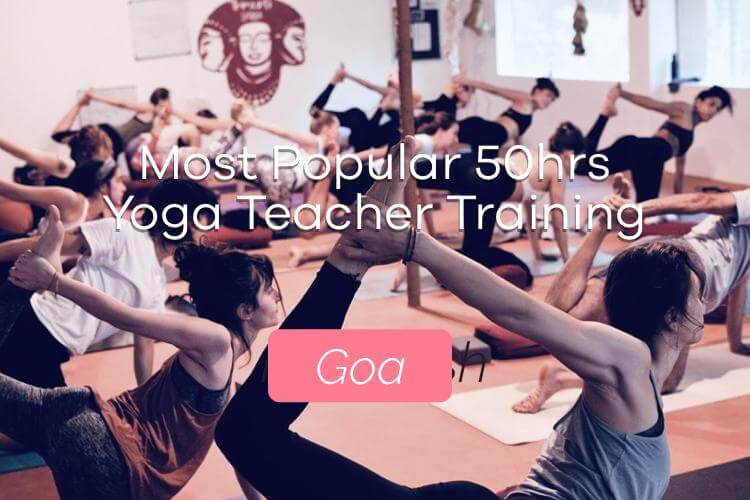 Undeniably the most relaxed, non judgmental and tropical place in India is Goa. It has many things going right, beautiful beaches, amazing sunsets and sunrises, yummy food, fascinating culture and relaxed people that give you island vibes though it is not an island.
If you are traveller at heart and yearn for clean beaches and looking to up your yoga practice, acquire extra skills and credits for your Yoga Alliance Continued Education then these carefully picked 50 hrs Yoga Teacher Trainings in goa are what you need but, before you take a deep breath make yourself a cup of warm green tea and proceed.
 Location: Mandrem, Goa
7 Days 50 hrs Yin Yoga Teacher Training course is organized at Ashiyana Yoga School Mandrem, Goa. The school had a very humble beginning, founded 2006 by Chris Nelson who is a yoga teacher, entrepreneur, writer and speaker. The yoga retreat strives to be a relaxing and nurturing spot 'A home away from Home'.
This 50hr Yin Yoga Teacher Training course is conducted by Louise Windsor, Tobie Tomkinson and Alexandra Denkinger. Louise is an advanced Yin Teacher and practitioner, she is also a Yoga Alliance Certified Teacher, a Reiki Level 2, a life coach and NLP practitioner. Tobie is a passionate and creative teacher that will make you challenge everything you know about Yin Yoga. He has a Bsc in Psychology, is a certified ERTY 200, YACEP, Bodywork and Neuro Somatic Reprogramming skills. Alexandra is a RYT 500 Yoga Alliance Registered Yoga Teacher, licensed and registered Doctor of Medicine in Acupuncture M.D.(ACU) by the Indian Board of Alternative Medicine
Teaching Yin helps you help others explore their Koshas and guide them to explore their inner stillness. The course focuses on the Traditional Chinese Meridian Lines -  exploring sequences that target the physical, emotional and energetic benefits of these in correlation with the daoist elements. Also included in the 50 hrs Yin Yoga Teacher Training are the following
Practice and learn 25 key Yin poses, how to teach them, including modifications and their contra-indications

Practice and learn 6 Yin Flows focusing on different Meridians and parts of the body

The body's muscular, fascial and myo-fascial meridian systems

Anatomy related to Yoga, including but not exclusive to:

Range of Motion – Osteo-morphology, tension & compression

Resistance points: Neural / structural / mental / emotional

Kinetic Chains

The Therapeutic Edge

Pain relief and catharsis

How to plan and theme a Yin yoga class using Breath, Meditations, Meridians

Introduction to the Chinese meridian system with an experienced acupuncturist

Meditation and Pranayama

The use of props to maximise comfort and relaxation of muscles and fascia

Restorative poses, breathing, mindfulness and relaxation

Morning Yin/ Yang sessions for your personal practice and develop a variety of ideas for your own classes

Teaching Practice

Assessment and class delivery feedback
Book 50hrs yoga teacher training in Goa
Here is what Tanja Mickwitz a student of Ashiyana Yoga School had to say
Ashiyana had come highly recommended by fellow teachers and students and still managed to exceed expectations. Me and my group had a wonderful time here - it's like a little oasis of serenity hidden away, yet right by the beach and within easy access to shops and restaurants when you want them. The yoga shalas are beautiful and well equipped - and the food amazing!! Thank you to everyone at Ashiyana for looking after us so very well. (source facebook reviews)
Link To: Ashiyana Yoga Teacher Training Mandrem, Goa
Cost of 50 Hour Yin Yoga Teacher Training Course starts at US$ 1,175 | 87,358 INR
Location: Canacona, Goa
5 Days 50 hrs Aerial Yoga Teacher Training course is conducted by Trimurti Yoga Canacona, Goa. This yoga resort is located amidst a coconut forest away from the all hustle bustle and 15 mins away from the Palolem beach.
Arya Murty is the founder of Trimurti Yoga he has been teaching yoga for the last 28 years and is a certified E-RYT 500 with Yoga Alliance. Susheel Jain who is the lead Aerial Yoga Teacher has been teaching yoga since 2009, he used to be a financial Analyst at Amazon Susheel also holds an MBA degree from Hyderabad Central University.