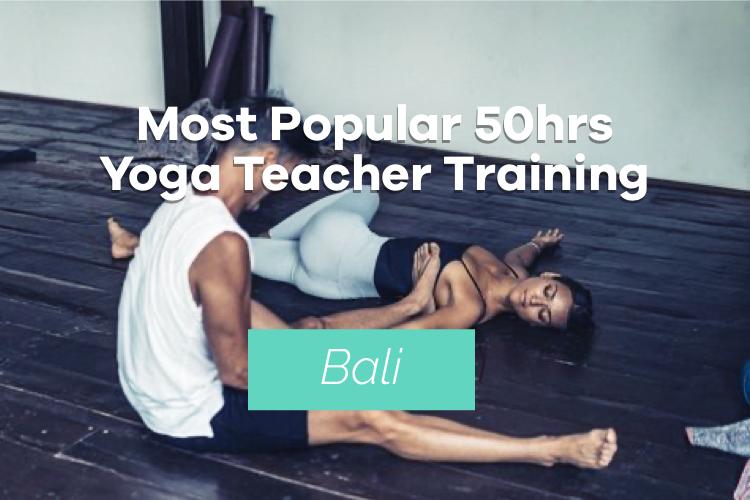 Undeniably the most spiritual place in Indonesia is the erstwhile Hindu Kingdom 'Bali', also known as 'The Land of the Gods' in Indonesia. In the last 5 years the Yoga scene in Bali has exploded so much so that every international yoga & wellness brand has to have a presence in Bali. Bali has many things going right, beautiful scenery, amazing food, fascinating culture and lovely people. 
If you are a wanderer with lust for an of the above and looking to up your yoga practice, acquire extra skills and credits for your Yoga Alliance Continued Education then these carefully picked 50 hrs Yoga Teacher Trainings are what you need, the trainings topics and teachers are as diverse as the locations but, before you start make yourself an avocado toast and cup of warm green tea as the journey to the last centre on this list of 8 is quite long 
1- 50hrs Yin Yoga Teacher Training @ The Pineapple House
An exclusive, boho-chic boutique yoga & surf retreat with only 5 uniquely designed ensuite rooms and a cute outdoor living space with 2 swimming pools is what best describes the visuals at Pineapple House in Canggu, Bali.
Rachel Fearnley and Lucy Foster-Perkins the owner and her team run everything to your schedule. You can get breakfast when you want, you have the option to do it all as in surf, yoga and sightseeing or just relax and do nothing while the team makes sure that you are well taken care off. The vibe of the place is zen like.
The 50 hrs Yin Yoga Teacher Training at Pineapple house is organized by The Peaceful Warriors. The training has been designed so that it not only benefits anyone who wants to teach Yin but also those that are looking to learn more about the art of reflective Yin Yoga and the tools that will help you feel energized, lighter and let you through the door of your inner being. The 7 Days 50 hrs Yin Yoga Teacher Training by Peaceful Warriors includes the following
Introduction to the lineage and history of Yin Yoga and the four stages of a yin pose

5 element and meridian theory as taught in Traditional Chinese Medicine (TCM)

An elementary overview of the 5 element meridian system and how they relate to each of the yin poses

Anatomy and fascial trains – Focusing on both the physical & subtle energy bodies and how Yin Yoga uniquely targets these areas

Breath Work – Understanding how the breath is used to shift stagnant energy in our Yin poses & to enhance our meditation practice

Mind – We'll dive deeper into meditation and mindfulness practices and learn how they are integral to our Yin Yoga practice

Yin Teaching – The subtle art of creating & holding a safe space for Yin classes. The language of yin & teaching. Creating class structure

Embodying Yin – Taking the wisdom of Yin & TCM into our everyday lives, physically, energetically and mentally

6 night accommodation
The centre mostly has raving review here is what Rebecca has to say about Pineapple House Yoga and Surf Retreat in Canggu, Bali
I really wanted to have a relaxing time in Bali without having to organise everything for myself, but didn't want to sign up for a fully fledged retreat. The pineapple house was the best of both worlds! The staff were there to help me organise everything I wanted to do, but I chose my own timetable and I wasn't locked into anything.
The pineapple house is a beautiful villa with clean, spacious rooms with private bathrooms, and a really welcoming common area with a pool. Since I was travelling on my own, it was really nice to be able to talk to other guests occasionally, or just have privacy in my own room. It is just a really nice, welcoming, unpretentious and relaxing space. And it's right next door to one of the best yoga retreats in Bali, so you can choose to do as many classes as you like. Canggu is a really cool area..not crazy like Kuta or up itself like Seminyak. There are some awesome restaurants near the Pineapple house, and I was able to rent a scooter so that I could get to them all.
I would definitely stay at the Pineapple house again, and I would recommend it to anyone going to Bali. (source pineapplehousebali.com)
Location: Canggu, Bali
Link to: The Pineapple House 50hrs Yin Yoga Teacher Training Canggu, Bali
Cost of 50hrs Yin Yoga Teacher Training starts at US$ 850
2- 50hrs Hatha Yoga Teacher Training @ Radiantly Alive Yoga
Radiantly Alive is a yoga studio in Ubud Bali founded in 2012 by Jasmine and Rafael, a couple from Peru. The yoga studio was founded with a mission to create and inspire a loving vibrant yoga community. Currently the yoga studio is host to 60 yoga classes per week.
The 5 Days 50 hrs Hatha Yoga Teacher Training & Yoga further education course is led by Geoff Brooks at Radiantly Alive Yoga Studio in Ubud Bali. With more than 30 years of experience in yoga, martial arts, arts and philosophy Geoff brings skill, grace and depth of wisdom to his yoga teacher training classes. Geoff is known to challenge you, transform you, take you away from the noise of the body and mind and guide you to your authentic self. The 50 hours Hatha yoga teacher training course includes the following
Hatha history as a stand-alone in perspective to overall Yoga Philosophy

Pranayama: the foundation of the practice. For thousands of years, Yoga has been pre-defined by Pranayama. We explore essential techniques and dive into the wisdom of the breath

Bandha: deep dive into awareness and the shifting application of various Bandha during specific Asana and Vinyasa

Alignment: the secret is in bones (stability) and joints ( and how to experience healthy movement

Vinyasa: the breath system of movement that closes the loop of individual Asana into free form Pranic flow

Pranayama & Meditation. How it is felt, expressed, presented and taught?

5 Days Snack & Lunch Package
Here is what Yousra Lembachar a student of Geoff Brooks has to say about his hatha yoga classes 
I first took a class with Geoff Brooks 2 years ago and loved every aspect of it. He has a wealth of knowledge that he applies in his classes, gives extremely useful and well researched cues, and really helps understanding how each pose targets different areas of the body, and where the attention needs to go, thus taking your practice to the next level. My body still remembers cues from his classes back from 2 years ago and I just took a couple of classes with him. His sequences are also so much fun. (source facebook reviews)
Location: Ubud, Bali
Link to: Radiantly Alive Yoga 50hr Hatha Yoga Teacher Training Ubud, Bali
Cost of 50hr Hatha Yoga Teacher Training starts at US$ 644
3- 50 hrs Yin Yoga & Chinese Meridians Teacher Training @ Serenity Yoga
Created by Caroline and her team out of pure love and respect for the ocean with yogashala's just meters away from the ocean amidst coconut trees, tropical flowers and a tranquil garden is Serenity Yoga in Lembongan, Bali.
Caroline is also the lead Yin Yoga Teacher for the 7 days 50 hrs Yin Yoga & Chinese Meridians Teacher Training, a Padi Dive Instructor, an E-RYT 500 Yoga Teacher and has been teaching yoga for more than 7 years. When Caroline is not on her mat she is either underwater or snorkelling with the beautiful manta found around the island.
The 50 hrs Yin Yoga & Chinese Meridians Teacher Training is best for people that have 6 months or more yoga practice. The program focuses on self exploration, self development and deep understanding of yin yoga. The course includes the following
Yin Yoga Asana, art of sequencing and understanding of Yin Philosophy

Anatomy, Chinese Meridian Theory and Daoist Principles of Yin & Yang

Use of Props & Adjustments

Mind Tools – introduction to mindfulness, meditation & self enquiry

Pranayama

Tension vs Compression

How to Communicate the Benefits of Yin Yoga

6 night accommodation
Here is what Emilie a student of 50 hrs Yin Yoga and Chinese Meridians Teacher Training has to say about Caroline and Serenity Yoga 
I had my YTT Yin certification at the Serenity Yoga Lembongan and it was a great experience - first to be in such a beautiful island, secondly the Shala is very well maintained and beautifully comfortable.
Caroline who is the owner and lead teacher for the course is very knowledgeable - the course handouts and daily lectures were very informative. If you want to have a starting point to yin, then it's a great place to go to.
Caroline keeps the group very small which makes it easier to communicate and learn from each other. It also feels like being with a family for a week.
The rhythm was quite chilled between lectures and practice.
A great way to learn new topics on yoga and be with people from all around the world!
I'll definitely go back to Serenity (source tripadvisor reviews)
Location: Lembongan, Bali
Link to: Serenity Yoga 50 hrs Yin Yoga Teacher Training Lembongan, Bali
Cost of 50 hrs Yin Yoga Teacher Training starts at US$ 800 
4- 50 hrs Prenatal & Postnatal Yoga Teacher Training @ Cosmos Oasis 2
The 6 days 50 hrs Prenatal & Postnatal Yoga Teacher Training is organized by Lauren Prindiville of the Peaceful Warriors at Cosmos Oasis 2 in Canggu, Bali. Cosmos 2 is a beautiful ashram-like retreat space set amidst the paddy fields in Canggu, Bali. They have modern scandinavian designed rooms which are available in a host of different configurations.
Lauren who is the lead yoga teacher for the 50 hrs yoga teacher training programme is 500 hrs certified Yoga Teacher who has been teaching yoga for the last 6 years and teaching a 200 hrs Yoga Teacher Training course for the last 2 years. She has also practiced Ayurvedic Medicine Therapies and Massage under Dr Sreejith Kumar in Kerala. Her classes focus on self-inquiry and self-love. In this programme Lauren teaches how to safely guide women through all trimesters of pregnancy and how to reintroduce yoga post pregnancy and this yoga training course is not just for yoga teachers but open to anyone who wants to deepen their Pre and Postnatal yoga knowledge.
The 50 hrs Prenatal and Postnatal Yoga Teacher Training includes the following
Anatomy: The mothers' changing body throughout pregnancy and post pregnancy

Ayurveda: how to use this ancient science during pregnancy and post pregnancy to bring women back into their natural state of balance

Trimester guide: how to modify our yoga practice during each trimester

Situations that may arise during each trimester and how to be prepared for them as a teacher

Post pregnancy guide: week by week guide of how/when to reintroduce all parts of yoga

Mom (or dad) and baby yoga

Pranayama & meditation: beneficial pranayamas and meditations for pre and postnatal women

Sample sequences to use while teaching

Safety: things to include and avoid pre and post pregnancy

Practice teaching: all students will have the opportunity to practice teaching pre and postnatal yoga

Daily Organic Breakfast

Peaceful Warrior t-shirt and course manual

5 night accommodation
Location: Canggu, Bali
Link to: Cosmos Oasis 50 hrs Prenatal & Postnatal Yoga Teacher Training Canggu, Bali
Cost of 50 hrs Prenatal & Postnatal Yoga Teacher Training starts at US$ 950
5- 50 hrs Yin Yoga Teacher Training @ Loka Yoga